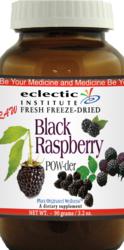 Let food be your medicine and medicine be your food. - Hippocrates
(PRWEB) March 21, 2012
While cancer prevention research has long pointed to freeze-dried black raspberries as a potentially effective disease fighting supplement, the berries recently came into the spotlight when daily freeze-dried black raspberry supplementation was recommended on the "The Dr. Oz Show" as a part of Dr. Lindsey Duncan's cancer prevention regimen.
Dr. Ed Alstat, founder of Eclectic Institute, explains the addition of the fresh, freeze-dried black raspberry powder, "Eclectic began manufacturing and selling freeze-dried black raspberry capsules in 2003 in response to emerging research that suggested black raspberry had great potential for significant health benefits. Because awareness about black raspberry's nutritional value has skyrocketed as of late, it is a good time for us to offer the 90 gram powder as another option for health-conscious consumers. Freeze-dried powder can be mixed into juice or yogurt for a tasty serving of freeze-dried black raspberries."
Research shows that black raspberries contain one of the highest antioxidant activity levels of any berry, as well as the highest content of phenolics and anthocyanins of any Oregon caneberry. Research also suggests that black raspberries induce protective modulation of gene expression, which can help prevent and fight certain diseases. Only the freeze-dried form of the berry supplement is recommended because the freeze-drying process halts degradation and preserves the active constituents of the fresh berries.
As a producer of freeze-dried supplements since 1985, Dr. Alstat is gratified that more health experts are recognizing the science and acknowledging that freeze-dried botanicals are superior to standard supplements, "I've been spreading the word about the benefits of freeze-drying for decades, and I am delighted it's finally hitting the mainstream."
About Eclectic Institute: Dr. Ed Alstat founded the Eclectic Institute in 1982 and was the first to utilize freeze-drying technology for the preservation of herbal supplements in the marketplace. Eclectic has a 90-acre certified organic farm in Sandy, OR, and it maintains its own freeze-drying facility for processing its fresh herbs, fruits and vegetables upon harvest. Eclectic Institute offers a full line of fresh, freeze-dried herbs and formulas, liquid extracts, botanical creams, children's herbs, and vitamins, as well as a physician's line of supplements. Eclectic's full line of fresh, freeze-dried food powders, as well as its 300 mg freeze-dried black raspberry capsules, can be found in health food stores or on the internet.