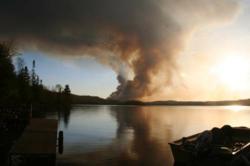 Grand Marais, MN (PRWEB) March 20, 2012
Fire isn't anything new to the folks on the Gunflint Trail, especially to owner of Voyageur Canoe Outfitters, Mike Prom. He's been around for quite a few fires in the Boundary Waters and many have been right in his backyard at the end of Minnesota's Gunflint Trail. When asked if he thought he'd be around for another forest fire Prom answered, "I'm sure we'll be around for another forest fire, it's just a matter of when it will be. Forest fires are a part of living on the Gunflint Trail."
It's dry on the Gunflint Trail and the chance of seeing a wildfire this season are better than normal. Ron Stoffel, a wildfire suppression supervisor for the state Department of Natural Resources, hasn't seen anything like this in over three decades of fighting wildfires in Minnesota.
"For the last 35 years this is as dry as we've had it this point in the year," he said.
Prom was grateful last year's Pagami Fire in the Boundary Waters didn't affect any entry points or campsites on the Gunflint Trail. "We were lucky last year and we're thankful we don't have to deal with re-routing folks to different BWCA entry points to get away from recently burned areas or closed campsites."
With unseasonably warm temperatures and less than average precipitation during this winter, things are pretty dry all over Minnesota including the BWCA. Tim Sexton, the Superior National Forest's District Ranger in Cook says, "Certainly this spring fire season has the potential to be a fairly severe one." This year's conditions are similar to those during the Ham Fire of 2007. It started on May 5th before the trees had a chance to green up and the swamps were bone dry. The difference is it's only March and the conditions are already conducive to a wildfire.
Temperatures have been in the 70's this last week on the Gunflint Trail and that's about 20 degrees warmer than the average temperature according to Tim's Weather Blogspo t. There's also usually snow cover in March and into April but the snow is already gone. The USFS and DNR are preparing for a busy spring fire season but Prom isn't too concerned. "A lot can happen between now and the Boundary Waters paddling season. We can get 2 feet of snow dumped on us, have it rain every day for a week and all of the worry will have been for nothing." says owner Mike Prom.
Worry or not forest fires will always be a part of life on the Gunflint Trail. "Fires are great for the environment and are nature's way of clearing down, dead wood. And fires make for some awesome blueberry picking too." As for this spring folks like Mike Prom will just have to wait and see what the weather brings.