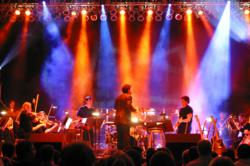 It gets people thinking about classical music in a different way.
Toledo, OH (PRWEB) March 21, 2012
For its latest concert, "The Music of Michael Jackson," the Toledo Symphony has entered the 21st century. Two fun, viral videos are circulating on Toledoans' Facebook, Twitter and Youtube accounts.
One video features WTOL 11's own Jerry Anderson describing a local phenomenon of sequin-wearing MJ fans dancing while doing their everyday jobs. Toledo Symphony musicians provide the music video with a unique symphonic version of "Billie Jean." Toledo.com (media sponsor for the event) produced this video.
In the second, Greenwood Elementary students burst into the choreography for Michael Jackson's Thriller music video at a local Rave Cinema. This style of "flash dance" has proven popular throughout the country, although a version with students is somewhat new to the scene.
For an art form that has roots in medieval Europe, it's a bold move.
"It [The Music of Michael Jackson with the Toledo Symphony] was an opportunity to have fun and get the community involved in the excitement of the event," says Toledo Symphony Marketing Director Ashley Mirakian. "The kids from Greenwood were amazing, and the video production for the Billie Jean video was truly artful. It gets people thinking about classical music in a different way."
The videos can be found at the following links:
Flash Mob: http://youtu.be/XNjA9fByKY4
Toledo loves MJ: http://youtu.be/BJIhQjeRJZw
The Symphony's collaboration with Windborne Productions for "The Music of Michael Jackson on March 23 and 24th is one of several "symphonic rock" shows that are popular with audiences. Last year, the Toledo Symphony performed Windborne's "Music of Led Zeppelin" to a completely sold out Stranahan Theater.
"More and more people are looking for unique presentations of the music they have loved for decades, and everybody has a favorite MJ tune," says Mirakian. "We want to show that their own Toledo Symphony likes to play as hard as it works."
The concerts are this weekend at the Stranahan Theater. Tickets start at $25 and can be purchased by calling 419-246-8000 or visiting http://www.ToledoSymphony.com.
The Toledo Symphony
The Toledo Symphony has a rich 65-year history of serving Northwest Ohio and Southwest Michigan. The Symphony has grown from a core group of twenty-two part-time musicians to a regional orchestra of nearly eighty professional musicians who consider the Toledo Symphony their primary employer.
With roots as early as 1838, the Symphony sees itself as the musical heart of Northwest Ohio, supporting Neighborhood and Regional Concerts, a School of Music and two youth orchestras in addition to traditional concert offerings (Classics, Pops, Mozart & More and Chamber).
###