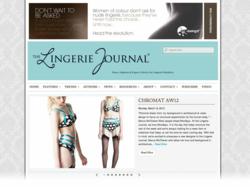 The changes open up the site, making it look clean, elegant and easier to navigate and read articles on the Lingerie Journal
new york, ny (PRWEB) March 21, 2012
Making its online presence as attractive as the world of Lingerie it reports on The Lingerie Journal recently revamped its website, http://www.thelingeriejournal.com, making it easier for its audience to read and enjoy the latest lingerie news, trends and features.
"We worked with web developer, Daniel Kraus, the founder of directory-sexy.com to overhaul our aesthetics, navigation and functionality," explained Luis Paredes, publisher of the Lingerie Journal. "I feel like the changes open up the site, making it look clean, elegant and easier to navigate and read our articles."
Among the changes made by Daniel was an updated feature gallery that slowly fades from one feature story to the next. The navigation also received an overhaul with a cleaner look, opaque dropdowns and custom fonts.
"There's a reason we're the number one online lingerie trade publication in the US - we invest in our writers and developers to bring the lingerie industry a trade publication that's based on quality and reliability," noted Paredes. "The Lingerie Journal is becoming the most respected intimate apparel trade publication and lingerie news site in the US."
The site updates also help the publication properly promote the brands and designers it covers and the advertisers it supports. "We've been told by several of our advertisers that the investment they've made in us has paid off with direct business being sent to them through our editorial and video coverage," added Paredes.
Current advertisers include being U, Eucalan lingerie wash, Claudette, Gozooko, the International Lingerie Show, BodyRock Sport, Priscilla Jade Lingerie, Toad Lillie, Dottie's Delights, Good Night Gilda, Clare Bare Lingerie, Love Me Sugar Sleepmasks, and Ombrato,
In addition to the website updates, the Lingerie Journal plans some new announcements for its successful Lingerie Trade Show for independent designers called the Lingerie Designer Showcase.
The Journal also has projects in development designed to increase its readership and global reach such as the addition of the UK-based Michelle Broomes to it's contributing writers roster. "Michelle is an incredibly talented writer and fitter that's passionate about the lingerie industry. Her first article on the Role of the Bra Fitter is the highest read article of the month with a flood of positive comments from retailers, designers and consumers," noted Paredes.
He also encouraged readers to keep reading and visiting the site daily to learn of the new developments. "There's a lot more in store from the Lingerie Journal team!"
About The Lingerie Journal
The Lingerie Journal is the number one online lingerie trade publication in the United States reaching hundreds of consumers, buyers, lingerie retail store owners, independent lingerie designers, wholesale manufacturers, influential lingerie bloggers, and other intimate apparel professionals (as well as those in related fields) on a daily basis. Follow and interact with the Lingerie Journal on Twitter to learn more @lingeriejournal