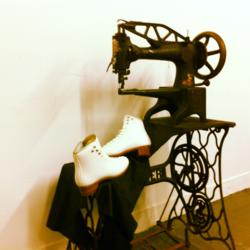 Good-byes are not for legends
New York City (PRWEB) March 21, 2012
Klingbeil Shoe Labs, designer and manufacturer of custom skating boots, has relocated from Queens to Manhattan to continue its 60-year tradition in skating boot design and manufacturing. Now with a new factory and showroom space in New York City, the company is now producing skating boots at a faster rate. However, they will stay true to the tradition of having artisans hand-making each pair.
Customers who have visited the new workshop were fascinated with its authenticity. The well-worn workrooms from the past are replaced by the state of the art facilities. This now makes production more efficient, communication more effective, and issues are resolved faster.
Klingbeil boots have been worn by some of the world's best figure skaters, including Olympic gold medalists Sarah Hughes, Oksana Baiul and Dorothy Hamill; Olympic silver medalist Sasha Cohen and Olympic bronze medalist Timothy Goebel.
Each pair of Klingbeil boots is custom designed and manufactured for each skater and the new facility will allow us to satisfy the high demand. In addition Klingbeil will now be able to design and manufacture more diverse product line, including boots for beginner and intermediate skaters, as well as custom shoes and orthopedics.
Founded by Bill Klingbeil in 1950, the boot manufacturer has always been a family business, which continues with Bill's son, Don, who began working for the company at age 14. Don is fascinated with the way everything has turned out. "I have never been in this business for the fame that dies within weeks, nor am I in this business for the money. You can't take that when you leave. Rather, I want to be remembered for building great boots.
Good-byes are not for legends. The Klingbeil name shall survive. For over 100 years, the name Klingbeil has meant the finest quality in handmade and handcrafted boots
To learn more about Klingbeil's custom skating boots, visit http://www.klingbeilusa.com