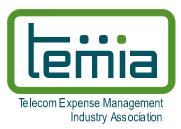 TEMIA symbolizes that expense management, validation and reporting are legitimate requirements for organizations looking to remain competitive... Businesses of almost every size are implementing best practices in telecom expense management.
(PRWEB) March 21, 2012
The Telecom Expense Management Industry Association, TEMIA, the authoritative voice for Telecom Expense Management, TEM, Wireless Expense Management, WEM and Mobile Device Management, MDM, solutions providers announced two new companies have joined the association. More new member signings are expected with recent program expansion and a reduction of membership fees that demonstrates the financial strength of TEMIA.
In today's cost conscious environment, enterprises are actively seeking help from TEM Solutions providers to manage mobile and fixed telecom expenses. The market keeps growing as more organizations learn about the opportunity to improve supply chain management for telecom expenses and reduce their costs through optimizing inefficient processes. Membership in TEMIA should be a strong consideration for any organization evaluating Telecom Life Cycle Management, TLM, solutions. TEMIA membership indicates thought leadership, an investment in the future of effective TLM solutions and a long term commitment to the market.
Sam Ayad, managing director for SmartBill, said, "Joining TEMIA demonstrates our commitment to the development and education of global standards in the field of expense management for telecommunications and utility services. The rapid uptake and adoption of mobility as an essential tool in today's 'anywhere – anytime' business environment only further supports our need to assist our clients on an international stage and actively contribute to the development of standards capable of supporting them both domestically and abroad. TEMIA symbolizes what we have known for some time - that expense management, validation and reporting are legitimate requirements for organisations looking to remain competitive. In order to be competitive in today's market visibility and information must be high on the agenda, and our role is to provide this."
Nancy Peckham, CEO and founder of Valicom, stated, "We look forward to working with TEMIA to showcase the cost savings, operational efficiencies and heightened visibility that can be found through telecom expense management." Peckham continued, commenting on the explosion of cloud solutions in expense management, saying "It's an exciting time. With new web-based software tools enhancing the traditional outsourced service model, solutions are more accessible to smaller firms than ever before. Businesses of almost every size are implementing best practices in telecom expense management."
"I welcome Valicom and SmartBill as new members," stated Joe Basili, managing director, for TEMIA. He added, "New members bring different experiences and points of view, but they come together with other TEMIA members. This demonstrates the power of collaboration for the betterment of customers to maximize their return on investment in TLM, mobility and related communications technologies. The association will be expanding overseas with recent additions of new members and new signings expected from firms based in Europe, Latin America, Canada, India and Asia.
About TEMIA
The largest Telecom Expense Management service providers founded TEMIA, the Telecom Expense Management Industry Association, in 2006. Since that time, TEMIA has grown to 40 members with international corporate headquarters managing over $61 billion of telecom and data spend.
TEMIA's mission is to raise awareness and knowledge of the values and benefits of Telecom Expense Management TEM, Wireless Expense Management (WEM), Managed Mobility Services, (MMS) and Mobile Device Management (MDM) solutions, to improve the quality and value of these solutions through the development and promotion of open industry standards, and industry knowledge among Solutions Providers, business partners, telecom service providers, and enterprise clients.
For more information about TEMIA, visit http://www.temia.org.
About Valicom
Valicom is a Madison, WI based telecom expense management firm founded in 1991 as a certified, 100% woman-owned business (WBE). Valicom offers a full suite of telecom cost control services including telecom audits, wireless optimization, RFP services, telecom contract negotiation, telecom invoice processing and payment. Services are delivered via Clearview, a web-based telecom expense, invoice and inventory management software. Clearview can be used either as a subscription software-as-a-service (SaaS) or as part of a comprehensive telecom audit outsourcing project. For more information, please visit http://www.valicomcorp.com or contact lathen(at)valicomcorp(dot)com.
About SmartBill
Established in 2001, SmartBill is a leading consulting and application development firm that specializes in Expense Management, Cost Analysis, Management Reporting, Benchmarking, Market Intelligence and Procurement Solutions for businesses with demanding, complex telecommunications and utilities needs. SmartBill's online analysis applications, reporting and procurement portals allow businesses to achieve significant cost savings and budgetary visibility.
SmartBill is an independent consultant with an established reputation for independent audit or re-rate of telecom and supplier invoices. SmartBill has extensive knowledge and experience necessary to help with visibility in the most complex of telecom and supplier invoices and pricing across all facets of telecom services including mobile, fixed-line, data, intra-calls, credits, hardware funds and other auxiliary charges in telecom invoices.
SmartBill customers are from various industries, including carriers, security, food manufacturers, health/medical, construction, banking, logistics, and many others, operating in multiple locations across different countries. For more information, please visit http://www.smartbill.com.au/