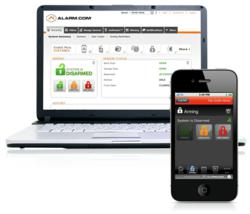 Vienna, VA and Basking Ridge, NJ (PRWEB) March 21, 2012
Alarm.com and Verizon Wireless today announced an agreement between the two companies to leverage the nation's largest and most reliable wireless network as the backbone for Alarm.com's industry leading interactive security, home automation and energy management services. As a result, Alarm.com will be able to offer an even wider array of products and services through a dedicated, secure and completely wireless communication path between the customer premises and Alarm.com's hosted services platform.
"Working with Verizon Wireless represents a significant opportunity for Alarm.com, our dealer partners and most importantly, our customers. By integrating our technology with Verizon Wireless' nationwide reliable network, we are able to expand our coverage footprint even farther and offer services that are only possible on a very fast, very secure and completely dedicated wireless connection," said Daniel Ramos, Senior Vice President of Corporate Development, Alarm.com. "Alarm.com has always been committed to building solutions that do not rely on communication paths that are shared with other devices in a home or business, to ensure that critical safety events are communicated quickly when help is needed. The Verizon Wireless network brings an extremely reliable communication platform that also scales to support valuable everyday services like energy management, home automation and video monitoring."
"Verizon Wireless is committed to enabling new and innovative machine to machine (M2M) solutions to run on our nationwide network, and working with industry leaders such as Alarm.com to wirelessly connect the devices that matter most to consumers," said Michael Maiorana, Regional President, Verizon Wireless, Maryland, DC, and Virginia region. "Through our relationship with Alarm.com, we are bringing together our best-in-class communications network with Alarm.com's best-in-class remote monitoring and control platform that will have an extraordinary impact on security."
The Alarm.com communication gateway operating on the Verizon Wireless network will include the Gobi™ chipset from Qualcomm Incorporated.
"Qualcomm is pleased to support Alarm.com and Verizon Wireless in driving next-generation wireless technologies into smart energy, security and home automation," said Kanwalinder Singh, Senior Vice President, Business Development, Qualcomm. "The number of connected devices is expected to grow significantly in the years ahead, and through collaboration with industry leaders in key verticals, we will help enable the emerging 'Internet of Everything.'"
Alarm.com will begin accepting orders from Authorized Dealer Partners for the new gateway at the ISC West industry trade show in Las Vegas later this month.
About Alarm.com
Alarm.com, founded in 2000, is the industry leading technology provider of interactive security solutions. Through its proven technology platform and advanced wireless, mobile and web-based solutions, Alarm.com helps protect and empower hundreds of thousands of residential and commercial customers throughout North America. Alarm.com delivers interactive security, video monitoring, home automation and energy management to users exclusively through a network of thousands of licensed and authorized Dealer Partners. For more information, visit the company's website at http://www.alarm.com.
About Verizon Wireless
Verizon Wireless operates the nation's largest 4G LTE network and largest, most reliable 3G network. The company serves nearly 108 million total wireless connections, including 92.2 million retail customers. Headquartered in Basking Ridge, N.J., with nearly 82,000 employees nationwide, Verizon Wireless is a joint venture of Verizon Communications (NYSE, NASDAQ: VZ) and Vodafone (LSE, NASDAQ: VOD). For more information, visit http://www.verizonwireless.com.
Qualcomm and Gobi are trademarks of Qualcomm Incorporated, registered in the United States and other countries. Other products and brand names may be trademarks or registered trademarks of their respective owners.