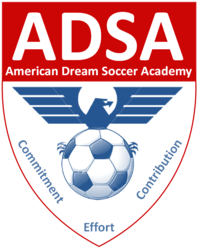 Chantilly, VA (PRWEB) March 22, 2012
ADSA's first senior class has reached the age where they must get exposure to college coaches and scouts in order to achieve the milestone goal of obtaining an athletic scholarship to college. To this end, ADSA will be conducting a series of fund raising initiatives this Spring in order to reach our goal of $30,000 to send our fifteen year old and up kids to college ID camps this summer. Donations to ADSA are tax deductible and can be made directly on the ADSA Web site at http://www.adsaacademy.org or checks can be mailed to ADSA at 14340 Sullyfield Circle, Suite 200, Chantilly, VA 20151.
"At ADSA, we work hard to keep the under privileged kids we work with on a productive track as excellent student-athletes and we hope this leads to college scholarships for all of them," said Greg Sieber, President of ADSA. "Our worst nightmare is to mentor a kid for years, keeping them out of trouble, developing them academically and athletically, just to have them fall short when it comes to the critical juncture of college entrance. We must have the financial support of our corporate sponsors and individuals donors to get these deserving kids exposure at the college level and the Send a Kid to Camp Fund raiser is an important part of that equation."
ADSA is seeking corporate and private individual Send a Kid to Camp donations. Corporate donors can sponsor and entire team and receive a full sponsorship package including branded team gear and a digital media campaign to recognize them for their support. If you or your company are interested in making a difference in the life of a socio-economically challenged, yet deserving young person, then make a donation today at http://www.adsaacademy.org or contact us to discuss how to donate or help the cause. Remember, these are great kids, right here in our communities and they need your help.
About American Dream Soccer Academy
Headquartered in Chantilly, VA, American Dream Soccer Academy (ADSA), http://www.adsaacademy.org is a not for profit organization helping kids in your community obtain the positive experiences of advanced athletics in conjunction with educational and personal achievement. Our mission is to help immigrant and first generation children adopt the American Dream of self-driven success and to help them obtain college scholarships. We provide a means for youth players socio-economically barred from advanced athletic training with a means to "get in the game". We are dedicated to breaking the cycle of poverty for our members. We strive to teach the principles of commitment, loyalty, individual accountability, leadership, and follower-ship. ADSA works daily to help deserving youth athletes in the community through our mentoring, family support, and athletics programs. ADSA kids stay out of trouble, learn life skills, and ultimately obtain college scholarships. Kids wearing the ADSA badge hold their heads a little higher and know they have a bright future. Restoring the American Dream one player at a time, that is what we are doing at ADSA.