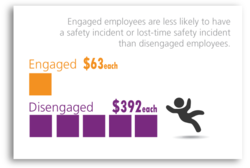 TNS' survey of HR professionals shows that a disengaged employee wastes between two and four hours per day in comparison to engaged employees.
Chicago, IL (PRWEB) March 21, 2012
A significant challenge supervisors and leaders are currently contending with is properly aligning their business' objectives with employees' engagement efforts. Despite cutbacks across the board, research by TNS Employee Insights shows that focus needs to be placed on engagement programs, with attentive employees being more committed and making a greater contribution to the goals and bottom line initiatives of an organization.
Normative benchmarking data from 120 countries and over two million employees has established three key indicators of employee engagement in high performing companies:

Employee voice is more prominent: Those surveyed said that overall, his or her supervisor listens to ideas and concerns, and involves them in solving problems related to the work group. Individuals in organizations with sustained financial success and growth also reported feeling encouraged coming up with new and better ways of operating, and that sufficient effort is made to obtain employees' opinions and perspectives.
Employee perspective of effective leadership is higher: Among high performing companies, 26 percent of individuals surveyed reported feeling that management will take action based on survey results. Additionally, 32 percent of such respondents have confidence in the leadership ability of senior management.
Measurement of inspirational leadership is stronger: When asked about a direct supervisor, six percent of employees reported that his or her leader cares about them as an individual. Two percent in high performing companies also said that their supervisor effectively coaches and guides their work; and another two percent contend that the supervisor inspires colleagues in their work group.
There is also sufficient data to support that employee engagement programs increase operating income.
"TNS analysis on employee engagement reports a 52 percent gap in operating costs between companies with highly engaged employees to companies with low engagement scores," says Mike Schroeder, Chief Executive Officer of TNS Employee Insights.
Similarly, a SHRM research quarterly study (Lockwood) found engaged employees in one organization were five times less likely than non-engaged employees to have a safety incident and seven times less likely to have a lost-time safety incident. In fact, the average cost of a safety incident for an engaged employee was $63, compared with an average of $392 for a non-engaged employee. The SHRM study noted that in 2002 organizations could have saved $1,721,760 in total safety costs by strengthening employee engagement*.
In consideration of these conclusions, senior consultants at TNS identified four specific steps for organizations to capitalize on the economic value of employee engagement programs:
1. Link employee engagement to business objectives and measures of effectiveness
2. Invest in employee programs specifically designed to increase engagement and that support business objectives
3. Establish a system of measuring engagement and the effectiveness of these programs
4. Make adjustments based on the discernible results
"By increasing employees' engagement levels, organizations can expect an increase in performance of up to 20 percentile points and an 87 percent reduction in employees' probability of departure," states the Corporate Executive Board Company, which aims to help senior executives and their teams drive corporate performance.
So, it would be inaccurate to report these findings exclusively a result of employee engagement programs; yet, it is significant to note the connection between implementation of an engagement program and the impact on overall business practices and corporate performance.
TNS' survey of HR professionals shows that a disengaged employee wastes between two and four hours per day in comparison to engaged employees. Employee engagement programs impact the bottom line of an organization by increasing productivity, shareholder returns, and reducing costs of lost time due to accidents. Business professionals need to focus on the benefits and return on investments made in engagement – it is an investment that will provide a return in more engaged employees and leveraging an organization into the future.