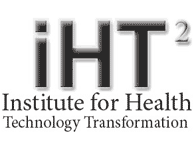 Data and technology are important, but health IT will not reach its potential without attention to people, especially the leaders who develop and implement systems
New York, NY (PRWEB) March 22, 2012
The Institute for Health Technology Transformation announced today that they will be hosting the iHT2 Health IT Summit in Seattle, August 22-23 at the Seattle Marriott Waterfront.
The iHT2 Health IT Summit will bring together C-level, physician, practice management, and IT decision-makers from North America's leading provider organizations and physician practices. For two full days, executives interact with a national audience of peers, national leaders and solutions providers featuring the latest solutions for practice management, mobility, telemedicine, outsourcing, IT infrastructure, next-generation electronic medical records, disease management, and more.
The iHT2 Health IT Summit in Seattle will feature keynote presentations from Richard Gibson, MD, CHIO, Providence Health & Services and David Garets, Executive Director, Advisory Board Company.
Featured speakers include: George Reynolds, MD, MMM, VP, CMIO & CIO, Children's Hospital & Medical Center; Kim Lamb, Executive Director, Oregon Health Network; Thomas Payne, MD, Medical Director, IT Services, UW Medicine; Thomas Yackel, MD, MPH, CHIO, OSHU Healthcare and Associate Professor, Oregon Health & Science University; Jeff Hummel, MD, MPH, Medical Director for Healthcare Informatics, Qualis Health; and many more.
"Data and technology are important, but health IT will not reach its potential without attention to people, especially the leaders who develop and implement systems," said iHT2 Seattle Faculty Member William Hersh, MD, Professor & Chair, Biomedical Informatics & Clinical Epidemiology, Oregon Health & Science University.
Panel discussions for the Health IT Summit in Seattle include: Health Information Exchange: A Vehicle for Overcoming Health Care Challenges, Not Another Meaningful Use Panel: 2015 is Closer Than You Think! Raising the Bar: Leveraging Mobile & Telehealth Technologies to Reduce Disparities in Care, ACO's & Population Health Management: Tying Technology to Health, Adopting the hCloud: Delivering Care Anytime, Anywhere, Analytics in Healthcare: Leveraging Data for Organization Wide Improvements, and Security & Privacy in Health IT: A Fresh Look at Strategies & Risk Assessment
Sponsors and Partners include: Comcast, VMware, Healthcare IT News, TechTarget, eHealth Smart Brief, FierceHealthIT, HealthWorks Collective, ADVANCE, CMIO, and more.
About the Institute for Health Technology Transformation
The Institute for Health Technology Transformation is the leading organization committed to bringing together private and public sector leaders fostering the growth and effective use of technology across the healthcare industry. Through collaborative efforts the Institute provides programs that drive innovation, educate, and provide a critical understanding of how technology applications, solutions and devices can improve the quality, safety and efficiency of healthcare. http://www.ihealthtran.com
For more information about attending or sponsoring the iHT2 Health IT Summit in Seattle please contact Matthew Raynor, Senior Marketing Manager, Institute for Health Technology Transformation 561-748-6281 or matt(at)ihealthtran(dot)com