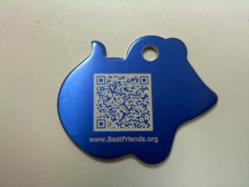 My dogs will be the first in the neighborhood to have their own Facebook pages! - Annie, NYC
Rockport, Maine (PRWEB) March 22, 2012
QR Devices announces a new product allowing pet owners to track lost pets through Facebook.
QRPetLink dog and cat tags are laser engraved with a unique QR Code. The 2-D Bar Code links to a private QRPetLink Facebook Group where the animal's owner can record not just contact information but also health, personality and special needs. Once QRPetLink approves membership in the group, QRPetLink is live.
Best of all, the QR Code can be read by the animal's finder with any smart phone. The free app is downloaded in seconds and comes pre-loaded in many mobile phones. There are no special readers such as RFID or bar code scanners.
QRPetLink is economical as well. Cost per tag is $9.99 US plus shipping, and there is no cost to join the Facebook Group.
For more information on ordering a QRPetLink pet tag, go to QRPetLink online.
QR Devices is a division of Greenwood Tech Strategies, LLC, a micro-manufacturing company offering products that range from laser engraved pet tags and the Paperless Business Card to micro wireless sensors for detecting aircraft strain and corrosion. The company was recently awarded a Maine Technology Institute seed grant and plans to re-locate to Brunswick Landing at the former Brunswick Naval Air Station to take advantage of state incentives to small business.
http://www.greenwoodtechstrategies.com