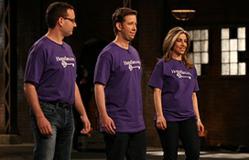 Being able to provide our members with a $10,000 discount on a dream car is an example of the value we provide for our members
Toronto, ON (PRWEB) March 21, 2012
HomeSav.com, the flash sales site for furniture, home décor and lifestyle products is proud to announce that it will be featured on CBC's "Dragons' Den" on March 21st.
HomeSav.com was founded in 2010 by Alexander Norman, Aliza Pulver, and Allan Fisch with the goal of making it easier and more affordable for consumers to furnish their homes beautifully. "Our goal is to make it easier for our members to find exceptional home décor and furniture that reflects their personal taste at a price they can afford" says Aliza Pulver, co-founder and Chief Buying Officer. "We launched the site with daily sales and will be expanding to products from third party websites in the near future to ensure that our members can find the best product for them regardless of the source."
The "Dragons' Den" is a highly rated reality TV show in Canada, with more than 1.5 million people from across the country tuning in weekly to watch promising entrepreneurs pitch their business ideas to the "Dragons", a panel of prominent business leaders.
"The fact that the Dragons' Den wanted HomeSav to be part of their show says a lot about the quality of our products and the potential of our business model. We are excited to be featured on the show and the national exposure is a great bonus that will further boost our success." – Alex Norman, co-CEO and founder of HomeSav.
In Conjunction with the Dragons' Den episode, HomeSav will launch several Sales Events inspired by the Dragons. Each Sale will have items we believe the entrepreneur would buy and will feature several unique items from high end art to luxury sport vehicles.
"Being able to provide our members with a $10,000 discount on a dream car is an example of the value we provide for our members." says Allan Fisch, co-CEO.
On March 29th, HomeSav will also be hosting the first ever physical pop-up store for a flash sales site. Products from HomeSav.com will be displayed, ranging from kitchen appliances to art, outdoor furniture and luxury cars on display at 58 Berkley Street, Toronto, from 4pm (to be checked).
"We want people to physically experience the quality of the products we sell on our site. Join us. We will have everything from kitchen appliances, to outdoor furniture to living room décor all up to 80% off." –Alex Norman
The March 21st broadcast of "Dragon's Den" will be aired on CBC at 8pm EST.
About HomeSav.com
HomeSav.com is one of the fastest growing flash sale sites for luxury home décor, furniture and lifestyle products for North American homes at up to 70% percent off retail price. With a free sign-up on the site, members get access to daily sales events each morning, introducing new brands and products that are available in a limited quantity and for a limited time. HomeSav is a one-stop Product Discovery Engine for consumers across North America to find the best home decor and lifestyle products, in terms of design, price and functionality. Our goal is to give people a deeper and more personalized connection to the products they choose to bring into their lives. Every featured product is curated by HomeSav's strong buying team or guest designers and is accompanied by a detailed description and high resolution images, taking the guess work out of furnishing and buying product for your home, so that consumers know exactly what they're paying for. HomeSav.com products include home decor, furniture, art, kitchen, outdoors, gadgets, seasonal, and family related luxury home accessories. If you are interested in becoming a vendor or partner please contact allan(dot)fisch(at)homesav(dot)com.
Membership is free and shoppers can register at http://www.HomeSav.com.
Contact:
Alex Norman, Co-CEO & Co-Founder
HomeSav.com
855-260-4999
alex(at)homesav(dot)com