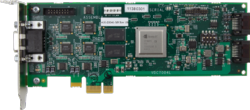 Sunnyvale, CA (PRWEB) March 21, 2012
Stretch Inc., the pioneer and leader in software configurable processors, today announced the release of a new PCIe decode and display card. The VDC7004L features a single Stretch S7100 processor and provides four CVBS spot monitor outputs to display up to four channels of standard definition video on analog monitors. The processing power of the S7100 delivers unprecedented decode and display performance, while its software defined architecture ensures universal decode capability. With the ability to decode up to 16 D1 streams of video from any IP camera or encoder, the VDC7004L delivers true hybrid functionality to PC-based DVRs.
"The VDC7004L is the second card in the VDC family and it adds analog output capability to the Stretch card portfolio," commented Mark Oliver, director of product marketing at Stretch. "With the same universal decode capabilities as the VDC7002LHDMI, it provides a versatile hybrid capability to systems that power traditional analog displays."
The VDC7004L uses the standard SDK found across all Stretch platforms, ensuring rapid and intuitive porting of host application software and seamless integration with other Stretch products. It has two eAIM ports that allow high speed connectivity with other Stretch cards without host processor intervention. This dramatically reduces host bandwidth requirements and lowers system costs.
The display sub system built into the VDC7004L can take video streams decoded by the included universal decoder or it can take raw video directly from the PCIe bus or eAIM ports. User-defined scaling and tiling can be applied to create a matrix of video that can be manipulated and changed in real time. This ability to accept video from any video source or CODEC and display it in real time on up to four monitors makes the VDC7004L a highly versatile display sub-system and a powerful addition to PC-based DVR systems. The VDC7004L is available as a fully featured reference design for customers that want to adapt the product to create highly differentiated derivative products or as a production-ready unit for high volume OEMs.
Stretch will be exhibiting at ISC West, booth 2096, in Las Vegas, Nevada, 28-30 March, and will be demonstrating many of its S7000-based reference designs including standalone DVRs, PCIe DVR add-in cards, HDcctv cards and cameras, and high definition IP cameras with configurable image signal processing. For more information on these and other shows where you can see Stretch products in 2012, please visit http://www.stretchinc.com/news/events.php.
About Stretch
Stretch Inc. is the world leader in software configurable processors, the first to embed programmable logic within the processor. Using familiar C/C++ programming tools, system developers automatically configure Stretch's off-the-shelf processors to achieve extraordinary performance, easy and rapid development, significant cost savings, and flexibility to address diverse markets and changing application needs. Stretch devices are used in video processing, machine vision and wireless applications worldwide. For more information, visit http://www.stretchinc.com.
###
Stretch and the Stretch logo are registered trademarks of Stretch Inc.