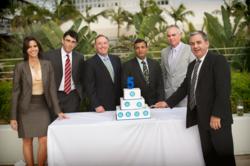 "Morgan Drexen provides automation to solo practitioners and small to mid-size law offices to save time and money. I think that is part of the reason we have weathered the financial storm," says CFO David Walker.
Costa Mesa, CA (PRWEB) March 27, 2012
Like so many companies in the U.S., Costa Mesa- based Morgan Drexen has adjusted financially to weather the economic storm in recent years. Morgan Drexen recently celebrated its 5th Anniversary in the software and support industry, despite recent economic hardship throughout the U.S., Morgan Drexen made changes internally to support the fledgling economy.
Morgan Drexen General Counsel Jeffrey Katz says, "We are celebrating 5 years and that is great. We have survived as we have stayed true to our mission; to advance the integration of creative business solutions. In ten years, I would like the company to expand into a variety of other legal practice areas as well as into businesses other than the practice of law. American businesses are fertile ground for ideas. Morgan Drexen has the ability to assist companies with their efficient implementation of those ideas."
According to the Bureau of Labor Statistics between 2007 and 2011 showed the average national unemployment rate of 4.6% to a peak of 9.8% in late 2010. Slowly 2011 has shown a decrease in the unemployment rate with reports from the Bureau of Labor Statistics showing that in February 2012 the rate hovers at 8.3% reaching a level not seen since 2009.
"Recent years have not been easy for any business in the U.S., however Morgan Drexen provides automation to solo practitioners and small to mid-size law offices to save time and money. I think that is part of the reason we have weathered the storm. We have provided efficiencies to law firms nationally and cut down the costs of running a law firm," says Morgan Drexen Chief Financial Officer David Walker.
Morgan Drexen opened its doors in 2007 with 5 offices in a shared building. The company now occupies 5 floors in Corporate South Coast Metro. In a recent first quarter meeting, held by Morgan Drexen at The Westin Hotel, Costa Mesa, both financial and customer-based growth were predicted for Q2 of 2012.
"With improved training and compliance at Morgan Drexen in many departments we have ensured greater employee retention, less errors and more knowledgeable staff. We have looked to reduce costs in areas such as postage. With improved equipment and additional automated services the introduction of a paperless environment has assisted greatly in reducing operational costs. We are now able to resolve any issues of our customers in less time," says Chief Operations Officer Rita Augusta.
"There were changes made to combat the negative economy. We changed some marketing and customer service policies on the operations floor. I am excited with what the next five years has to offer," admits Morgan Drexen Co-Founder and Chief Information Officer Avi Gupta.
"In a down economy many companies focus on obtaining new customers and seek new ways to market for new clients. While we have certainly streamlined our marketing our focus has been on retaining the customers we have and improving the quality of service we provide for them and cutting costs internally. Maintaining an entrepreneurial approach to our industry has in turn made Morgan Drexen capable of reinventing itself and quickly adapting to the economic pressures brought on by the Great Recession," adds Chief Executive Officer Walter Ledda.