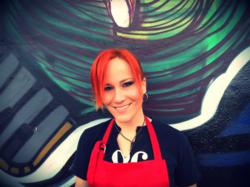 " I'm allergic to boring."
Miami, FL (PRWEB) March 20, 2012
Chef Adrianne Calvo is once again making headlines by partnering with America's largest international fashion event - Miami Beach International Fashion Week. This event, a gateway into the latest fashion from Europe to American buyers, an axis between Europe and the Americas, with South Beach as its glamorous epicenter, and Chef Adrianne Calvo the culinary rockstar behind the VIP party hosted by Dionne Warwick. Calvo, the fiery red head, who naturally flaunts fashion, was the obvious choice for Sobol- Perry Fashion productions for her "Maximum Flavor." It seems as though the masses cannot get enough of Chef Adrianne Calvo's food these days. Don't be baffled by the light- hearted, music- loving, grungy necklace, vintage t-shirt wearing young mogul, Calvo is the creator of Miami's most sought after gastronomic delights and she will share them, this Wednesday March 21, 2012 at the Miami Beach Convention Center for the 14th Annual Miami Beach International Fashion Week.
Chef Adrianne's Vineyard Restaurant and Wine Bar, the enclave that has become a hub of gastronomic creativity in the highly competitive South Florida restaurant scene, which also serves as the host location Miami's most sensual dining experience - Dark Dining. This highly acclaimed culinary gem tucked away from all the vapid South Beach scene, brings to mind Napa Valley and is emphasized by the Northern Californian décor and luxurious wine options.
Calvo keeps herself very busy with different activities besides the daily operation of her restaurant. She is the host Thursday mornings on her very own segment on NBC6's Live Miami, Maximum Flavor Live. Through this show, she has been able to share with her viewers the savory and exotic recipes she has rapidly become known for as a culinary artist. After a great response from her fans, Adrianne's segment has crossed over to the Hispanic market. Maximum Flavor Live now airs every Friday morning as "Sabor Maximo" on Univision. In addition, Maximum Flavor Live airs simultaneous on Miami local ClearChannel stations such as 93.9 fm MIA. Adrianne has become the youngest female chef to air on both American and Hispanic markets, on television as well as radio.
Chef Adrianne's is located at 11510 SW 147 Avenue Miami, Fl 33196 for reservations please call (305)408-8386 or (305)408-8388 and follow Chef Adrianne Calvo on Twitter or Facebook.
Restaurant: http://www.chefadriannes.com/?page_id=13
Facebook: http://www.facebook.com/chefadrianne
Twitter: http://twitter.com/#!/ChefAdrianne
For additional press information:
Nick Betancourt
npb305(at)hotmail(dot)com
786-287-1725