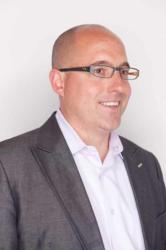 Seattle, WA (PRWEB) March 23, 2012
Banyan Branch today announced that co-founder Dave Hanley has been honored as a Young Global Leader by the World Economic Forum, which each year recognizes distinguished leaders under the age of 40 from around the world. Hanley joins an exclusive group of top advertising industry professionals who have recently been honored with recognition as Young Global Leaders, including David Jones, global CEO of Havas and Euro RSCG; Tara Comonte, CFO of McCann Worldgroup; and Scott Spirit, chief strategy officer of WPP.
Hanley co-founded and is a Principal for Banyan Branch, a Seattle-based full-service social media agency that provides end-to-end marketing services for the world's leading brands and non-profit organizations. The agency, with Hanley's backing, is playing an instrumental role in the World Economic Forum Young Global Leader's Thirst Global Water Awareness campaign, providing the organization with social media strategy and developing its website, http://thirst4water.org/. The goal of the organization is to raise awareness around individuals' water footprint—or how much water they use and is needed to support their lives on a day-to-day basis, to help people make better informed purchasing decisions.
Banyan Branch also provides numerous other non-profit organizations with social media strategy, interactive, campaign execution and resulting analytics, including GetSchooled, a non-profit focused on encouraging high school students to graduate and continue on to college, and Vittana, a leader in providing education loans to young people in developing countries, where Hanley is an Advisory Board Member.
"Social media has the power to catapult driving forces for change onto the world stage and channels such as Facebook and Twitter have become powerful megaphones to help increase awareness around global development issues," said Hanley. "As the world becomes increasingly digital, it has connected people and empowered them to change their world and the world of those around them. Social media facilitates gatherings and movements, and can be used for political, social, educational and health-related changes that increase the global standard of living."
A Fulbright Scholar, Hanley studied in Bangladesh in 2001 under Nobel Laureate Professor Mohammed Yunus, the founder of Grameen Bank. Grameen Bank, which won the Noble Peace Prize in 2006, is the largest microcredit bank in the world and the only business corporation to have won a Nobel Prize. Hanley received his Masters at Business Administration at Stanford University, and his Bachelor and Masters of Public Policy at Brigham Young University.
About The Forum of Young Global Leaders
Established in 2004 by Professor Klaus Schwab, The Forum of Young Global Leaders is a unique, multi-stakeholder community of the world's most extraordinary young leaders who dedicate a part of their time to jointly address global challenges and who are committed to devote part of their knowledge and energy to collectively work towards a better future. Together the Young Global Leaders work to discover innovative solutions to today's most pressing problems through various initiatives and workstreams, as well as catalyzing the next generation of leaders.
About Banyan Branch
Banyan Branch, based in Seattle, WA, is a full-service social media agency that provides end-to-end marketing services including strategy, creative, execution and analytics. With a holistic approach that integrates Strategy, Social Media Creative, Engagement and Research & Analytics, Banyan Branch delivers social media programs unmatched by smaller agencies, while providing more personalized service and quicker response than large-scale digital firms. Dozens of the world's leading brands, including FOX, Viacom, Paramount, Hartz, Univision, Gilt Groupe, Microsoft and Windstar Cruises have partnered with Banyan Branch to implement a wide variety of social media campaigns. Any company ready to connect with its customers where they live and breathe, can contact Banyan Branch via http://www.BanyanBranch.com