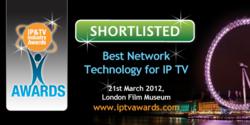 San Francisco (PRWEB) March 21, 2012
MediaMelon, a leading provider of a cloud-based service for OTT video delivery, announces that their MediaCloud solution has been named to the short list for best network technology at the IP&TV World Forum in London.
MediaMelon appreciates being recognized by the IP&TV Industry Awards. As noted by MediaMelon CEO, Kumar Subramanian, "Most of the major telecom operators globally have plans to offer multi-screen OTT video delivery solutions over the coming 12 to 18 months. We are actively working with leading operators in creating OTT services that can offer a marked improvement in QoE, based on MediaMelon's technologies."
MediaMelon's MediaCloud solution enables service providers to leverage their network assets to create revenue-generating OTT video services. MediaMelon's underlying technology measures end-user playback quality and uses that data to perform real-time routing of content, based on configurable business policies. MediaCloud helps service providers capture new revenue sources, extend their footprint to areas where they do not have a presence, improve QoE, and reduce network resources needed to support the growing volumes of IP video within their networks.
About MediaCloud:
MediaCloud is deployed as a hybrid- or private- cloud based service for application-aware, managed distribution and delivery of OTT video content, and to cost effectively deploy new OTT video services and create new revenue streams.
MediaMelon's solution has been selected by operators and deployed successfully. Some of the key drivers behind operators selecting MediaMelon's solution include:

As a cloud-based platform, MediaCloud can be deployed quickly, helping our customers to get an early market advantage. For example, competing, appliance-based solutions can take 10X more time to deploy.
Also, as a cloud-based platform, MediaCloud reduces the CapEx required to get started with an OTT video service thereby making it easier for our customers to start delivering a new service
MediaCloud abstracts the solution complexity away from the hardware, which means that it can run on off-the-shelf servers, and can inter-operate with existing caches and servers already deployed in a carrier's network.
Carriers are in a uniquely advantageous spot – they own the infrastructure that can make OTT videos work reliably and transform best-efforts, jitter-prone streaming videos to "carrier-class", reliable multi-screen entertainment. Delivering on that promise will be the defining challenge in 2012. MediaMelon hopes to enable carriers to deliver on this challenge in a profitable manner.
For additional information about MediaMelon, please visit our web page at http://www.mediamelon.com or email us at info@mediamelon.com.
Further information on the IP&TV World Forum 2012 can be found at http://www.iptv-forum.com