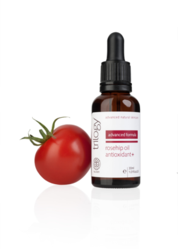 HARPER'S BAZAAR BEAUTY HOT 100 (UK 2011)
'Best Natural Skin Miracle'
New Zealand (PRWEB) March 23, 2012
Certified organic and 100% natural, Rosehip Oil Antioxidant+ combines nature's most powerful skin restoring and protecting properties in a unique and advanced formulation (Rosapene™).
With all the benefits of our award-winning Certified Organic Rosehip Oil, plus the addition of red berry super antioxidants, Rosehip Oil Antioxidant+ represents a new level of innovation for natural skincare.
This carefully selected seed oil blend works synergistically, delivering intensive nourishment to replenish softness and elasticity as well as daily antioxidant protection for healthier, younger looking skin.
Potent super antioxidants Lycopene from Tomato and Phytosterol from Acai help protect from premature ageing caused by environmental free radical damage. Nourishing Essential Fatty Acids (omegas 3 and 6) from Cranberry and Rosehip moisturise and renew. Mineral and vitamin rich Oat extract provides a soothing and luxurious feel that glides on the skin.
Rosehip Oil Antioxidant+ is the 'everything-your-skin-needs' beauty oil, helping to repair yesterday's damage and protect from tomorrow's.

Trilogy Rosehip Oil Antioxidant+
Certified organic advanced natural ingredients
Rosehip seed oil
Extracted from the seeds of organically grown Rosehips, Rosehip seed oil has high levels of Essential Fatty Acids (omegas 3 and 6) which help to repair, strengthen and hydrate the skin. Our in-house manufacturing expertise ensures the finest quality oil with guaranteed minimum 80% essential fatty acid content.
Tomato seed oil
Cold pressed Tomato seed oil has a minimum 80% lycopene content, one of nature's most powerful antioxidants, to help protect the skin against oxidative damage and premature ageing.
Cranberry seed oil
Cold pressed oil from Cranberry seeds is high in Essential Fatty Acids (omega 3 and 6) – see above for benefits.
Acai seed oil
Extracted from the seeds of the Acai berry (pronounced ah-sih-ee), this oil is a skin-conditioning emollient rich in antioxidant phytosterol as well as omegas 3, 6 and 9. It is known to nourish the lipid barrier and stimulate the regeneration process, encouraging new collagen production.
Oat extract
Sourced from Finland and hardened against the extreme climate, this oat extract is enriched with the perfect combination of essential nutrients including omegas 3 and 9 and vitamins A and E.
STOCKISTS
For stockist information, visit trilogyproducts.com.
EDITOR'S NOTE
10 Beautiful Years – key milestones
2003 Trilogy launches five Rosehip oil skincare products in New Zealand and Australia
2004 Myer department stores (Australia) stock Trilogy
2005 Launch in UK: Health, Fenwicks and Harrods department stores
2006 Launch online in United States
Company ranks 3rd on Deloitte NZ Fast 50 Index with 690% growth
2007 Launch in Hong Kong
2008 Offices open in Melbourne and London
Launch in Japan
2009 Boots Beauty Superstores and John Lewis department stores (UK) stock Trilogy
Launch in Ireland and Malaysia
Certified Organic Rosehip Oil included in prestigious Green Beauty Bible (UK)
Borneo Orangutan Survival Foundation annual campaign begins
2010 Launch in Korea
Trilogy products win international accolades – Harper's Bazaar Hot 100 'Best Organic Anti-Ager', Irish Tatler, Image, Remix and more
Company wins Supreme Wellington Gold Award in home market (NZ)
Sale to NZX-listed Ecoya, natural home fragrance, bath and body company
2011 Launch in Taiwan
More international awards for products – Harper's Bazaar Hot 100 'Best Natural Skin Miracle', Cosmopolitan Beauty Awards, Natural Health UK
2012 10th Anniversary
Launch of Rosehip Oil Antioxidant+
Charity partnership with Child's i Foundation
For the latest Trilogy news visit Trilogy Facebook:
http://www.facebook.com/trilogyproducts
For further information, images or interviews please contact:
Lisa Wilson, Trilogy
lisa(at)trilogyproducts(dot)com
+64 4 499 7820