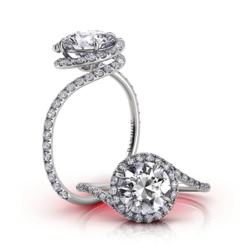 Enter to win a FREE Abbraccio Ring valued at over $10,000 at www.danhov.com
Los Angeles, CA (PRWEB) March 21, 2012
Danhov, an award-winning luxury engagement and bridal ring designer, announced today that two of its best-selling rings were awarded finalists by the JCK Jeweler's Choice Awards – the Abbraccio engagement ring and Men's Tubetto band. The Jewelers' Choice Awards recognizes jewelry designers and manufacturers and their best designs of the year. The award further demonstrates Danhov's growing popularity amongst industry critics and consumers alike.
Exquisite craftsmanship, quality, and design is the award-winning model that makes Danhov one of the nation's leading engagement and bridal ring designers. Each ring is hand-made or hand assembled ensuring both precision and excellence. No molds are used in the process, making Danhov one of the most eco-friendly jewelers on the planet. Danhov's focus is on small production and the constant release of new designs, ensuring the rings are not overproduced or mass-marketed.
Jack Hovsepian, the founder of Danhov, has been designing and crafting luxury engagement rings for the past 27 years. His innate sense of style and luxury comes from shadowing his father, a successful haute couture fashion designer. This now drives his passion for creating the world's most exquisite jewelry.
Danhov also recently released a new, robust Web site to showcase its award-winning ring collections. There are 360˚ interactive views of rings from all collections, as well as descriptions, design customization and retailer information. Danhov leads the industry with one of the most engaging and up-to-date Web sites in the industry.
The site also features an advanced search feature to find the perfect ring by cut, style, metal, settings, and collection. One of Danhov's most invaluable offerings is their ability to customize a style to please even the most discerning client, whether it's a rose gold band, yellow sapphire stone, or matching wedding bands. As part of its site launch, Danhov will be giving away one of its award-winning Abbraccio engagement rings with a retail value of over $10,000. For more information on the promotion, visit Danhov.com or on Danhov's Facebook page.
The JCK Jeweler's Choice Award combined with the longevity and success of the company proves that Danhov is one of the world's leading luxury engagement and wedding ring designer.
ABOUT DANHOV
Danhov was founded in 1984 by Jack Hovsepian, revolutionizing the luxury jewelry industry with its innovative designs and exquisite craftsmanship. Growing up in a household of a couture fashion designer, Jack's focus has been on creating truly unique designs, combining classic artistry with modern minimalism from an early age. All of the rings are handmade or hand assembled, and because no molds are used in the process, Danhov is one of the most eco-friendly jewelers on the planet. Danhov jewelry can be found at premier luxury jewelry retailers across the nation. For more information, please visit http://www.danhov.com, or find us on Facebook and Twitter, @Danhov. Enter to win a free ring on Danhov's Facebook page!