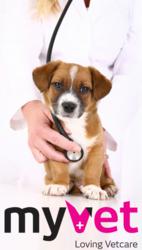 Since rebranding we have experienced 40% growth in the last 6 months
(PRWEB) March 22, 2012
MyVet was established in 2010 by Managing Director – Geoff Wilson as a rebrand of an existing veterinary practice. MyVet Marketing and Business Development Director Brett Craft worked closely with Gold Coast graphic designers Tropixel to create the distinctive and fun hot-pink MyVet branding.
The Gold Coast web design agency also designed the MyVet website to give clients instant access to petcare information and to help them quickly find answers to common petcare questions. The website also hosts MyVet TV, a series of instructive videos on topics such as tick paralysis, checking your pet's teeth, and giving your pets oral medication. The 'Re-Home Zone' features homeless pets with the goal of finding them a loving home. And checklists help pet owners identify signs of illness or poisoning in pets. For example, did you know that chocolate is toxic to your pet? – Myvetoz.com.au explains which signs indicate potential poisoning.
Geoff Wilson, Managing Director of the MyVet group, commented: "Since rebranding to MyVet in 2010 our clinics have gone from strength to strength, we have experienced 40% growth in the last 6 months. And with five clinics operating by the end of 2012 we'll be able to offer world-class veterinary care to many more animal patients and clients in the Northern Rivers."
As with the existing clinics, the new clinics will be led by a strong team of vets with international experience and a support team of nurses. They will be equipped with high-tech equipment and top-class facilities and they offer a walk-in appointment service to provide clients with maximum convenience and flexibility.