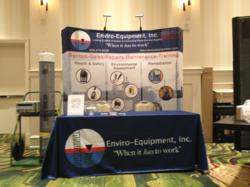 It was exciting to provide attendees with an innovative new way to approach in situ bioremediation, and we were pleased with how impressed they were at the amount of oxygen that OxyGreen generated in such a short time
Charlotte, NC (PRWEB) March 21, 2012
Groundwater remediation equipment sales and rental specialists Enviro-Equipment Inc. (http://www.enviroequipment.com) demonstrated the patented new in situ aerobic bioremediation system "OxyGreen" at the Third Biennial Southeastern In Situ Soil and Groundwater Remediation Conference in Raleigh, North Carolina on March 6-7.
The much-anticipated demonstration involved placing the OxyGreen Cell in a mock well constructed out of clear PVC for display, and then filling the well with tap water so attendees could see the substantial amount of oxygen produced by the device's in-situ electrolysis process. A video of the OxyGreen Cell demonstration was made and can be seen on the Enviro-Equipment website.
Also creating a lot of positive buzz among industry experts in attendance was the revelation that, unlike typical amendments, OxyGreen requires no injectors, no permits, and no purchase of chemicals or activators. It also runs non-stop until the job is done via a standard 120 volt power service or a solar panel.
"The conference focused on ISCO and ISCR technologies, and the successes and failures that consultants have experienced using various amendments and activators," commented Brian E. Chew, Vice President of Enviro-Equipment Inc. "Although heavily discussed in groundwater remediation circles, these technologies aren't new, and have been in use since the mid 1980s. Electrolysis is also not new. However, the patented new OxyGreen system applies the process in a new way – one that doesn't require injection permits, multiple injection events, an injection rig or injection well installation, or the need to purchase chemicals and activators. It was exciting to provide attendees with an innovative new way to approach in situ bioremediation, and we were pleased with how impressed they were at the amount of oxygen that OxyGreen generated in such a short time."
Chew also noted that his company plans on producing a solar version of the OxyGreen bioremediation polishing system in the near future.
For more information or media inquiries, contact Brian Chew at brianchew(at)enviroequipment(dot)com or 704-556-7723.
About Enviro-Equipment, Inc.
Enviro-Equipment, Inc., a woman-owned small business founded in 1993, rents, sells, and manufactures environmental monitoring equipment used for pollution control, groundwater remediation, water and wastewater treatment, safety and industrial hygiene, and environmental assessment. The company's Charlotte, NC facility also offers environmental monitoring instruments, field sampling supplies, safety products, equipment repair, and training. Enviro-Equipment's customers include colleges and universities, government agencies, industry, and environmental consultants in the groundwater hydrology and industrial hygiene fields in North America. Learn more at enviroequipment.com, the company blog: http://www.enviroequipment.com/blog or connect with Enviro-Equipment, Inc at facebook.com/EnviroEquipment, youtube.com/EnviroEquipment, or twitter.com/EnviroEquipmnt.