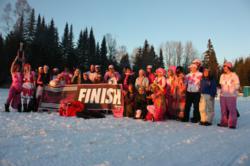 Grand Marais, MN (PRWEB) March 23, 2012
Mush for a Cure organizers Mary Black and Sue Prom have a couple of things to be happy about these days. One is the unseasonably warm temperatures held off long enough so there was plenty of snow for the event and two their event raised $40,000 for the National Breast Cancer Foundation.
The 6th Annual Mush for a Cure Sled Dog FUNdraiser was held on Saturday, March 10th, 2012. The festivities actually started the evening before with their Bald, Brave and Beautiful Competition. US Forest Service District Ranger Dennis Neitzke raised over $2500 and dyed his hair pink for 5 days before having it all shaved off Friday, March 9th, 2012.
Participants of Mush for a Cure raise money by receiving pledges for their sled dog team. This year there were over 40 teams that helped raise approximately $30,000. With donations, sponsorships and retail sales a check for $40,000 will be written to the National Breast Cancer Foundation.
Mary Black could be heard during the Awards Ceremony, "It isn't just me and Sue doing this, it's everyone together. The mushers, the many volunteers, the sponsors, spectators and the supportive community all accomplished this together and everyone should be very proud to be a part of it."
Proud and happy indeed for a successful event and for Mother Nature holding onto winter just long enough for the 6th Annual Mush for a Cure on the Gunflint Trail.