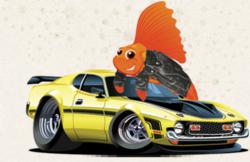 I'm already impressed.
New York, NY (PRWEB) March 21, 2012
RoadFish.com men's lifestyle and finance magazine shared its high hopes for a stellar film in "The Hunger Games" as the film reaches a record-breaking 2,000 show times sold in the pre-sale period alone. RoadFish.com stated that it is extremely excited for the film to hit theaters this weekend.
According to an article written by Crystal Bell of the Huffington Post, Fandango announced on Tuesday that "The Hunger Games" has already accounted for 92% of its daily sales with a chart-topping pre-sale segment. Fandango reported that they had sold out 2,000 show times already and has gone above and beyond the pre-sale numbers from the first "Twilight" film. The Huffington Post adds that experts and studio insiders expect "The Hunger Games" to draw anywhere from $85-140 million in the first weekend.
A Washington Post article written by Michael White predicts that "The Hunger Games" will change the way independent filmmaker company Lionsgate is seen within the movie industry. The Post reports that up until now, the biggest movie for Lionsgate was "Fahrenheit 9/11." The article reveals that Lionsgate studios has struggled to stay profitable as it's gone $1.1 billion into debt and has wrestled with loss in the past four fiscal years.
RoadFish.com's Senior staff writer is quoted as saying, "I'm already impressed. Collins' storyline is such an incredibly launching pad to use for a movie, and I'm just so excited to see what Lionsgate has done with the film. The content in this film sets it apart, and I'm sure it may be difficult to watch at times. But I appreciate the effort Collins makes to hold up reality television to the light and point a finger at the desensitization of modern-day TV. I am happy for Lionsgate, that the film has done so well even several days before it actually opens."
The film, taken from the original novel written by Suzanne Collins, takes place in the future and is set in the ruins of North America known as Panem. The story centers around the heroine, Katniss Everdeen, who volunteers to take her little sister's place as one of 24 teens randomly selected from around the country to fight in a televised battle to the death.
"The Hunger Games" deals with some heavy material, such as war (not to mention among teenagers) and the desensitization of television. Writer Suzanne Collins is quoted during an interview with Scholastic as saying, "While I think some of those [reality television] shows can succeed on different levels, there's also the voyeuristic thrill, watching people being humiliated or brought to tears or suffering physically. And that's what I find very disturbing. There's this potential for desensitizing the audience so that when they see real tragedy playing out on the news, it doesn't have the impact it should. It all just blurs into one program. And I think it's very important not just for young people, but for adults to make sure they're making the distinction. Because the young soldier's dying in the war in Iraq, it's not going to end at the commercial break. It's not something fabricated, it's not a game."
"The Hunger Games" opens in theaters on Friday, March 23.
About RoadFish.com
RoadFish.com is an online men's lifestyle and finance magazine targeted toward men in their 30's and 40's that have already attained a moderate level of success in life, and are striving toward more. It goes over current events of interest to this group, such things as exciting adventures, making money, consumer interests, finance, and dating tips, as well as ways to make more and save more money. It is a publication owned by Purpose Inc.
###