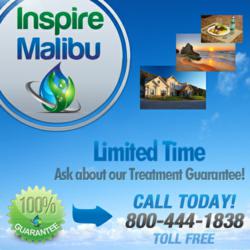 Top drug rehab center is set to educate the community about proper addiction.
Malibu, CA (PRWEB) March 21, 2012
Dr. Akikur Mohammad, Founder of Inspire Malibu, recognized by many as the top addiction treatment center in Malibu, California and Assistant Clinical Professor of Psychiatry and the Behavioral Sciences at the University of Southern California (http://www.USC.edu), announced today that during Inspire Malibu's forthcoming town hall series, he and his team will be educating the public about the critical difference between treatment and support with regard to addiction medicine and the proper clinical approach to treating the disease of addiction.
Dr. Mohammad said, "More often than not, the greatest threat to successful recovery when treating addiction is the deceptive marketing used by many drug rehab centers in the recovery community. The simple fact is this, proper medical treatment of the disease of addiction must involve an addiction medicine specialist (a properly trained M.D.), who can oversee a clinical approach to treating the disease; conversely, addiction support, not to be confused with proper addiction treatment, is simply offering people struggling with addiction a steady diet of group therapy sessions and 12-step meetings. While addiction support can be a very effective part of the overall treatment process, it is only a small piece of the puzzle and the public needs to know this when searching for proper addiction treatment." Mohammad added, "Many treatment centers promise addiction treatment but only provide addiction support, which is irresponsible, deceptive and potentially deadly. With proper addiction treatment, the addiction medicine specialist must coordinate proper intake, assess patient progress and make ongoing treatment decisions. Every patient needs to be medically and psychiatrically evaluated, while critical psychosocial and interpersonal assessment needs to be done regularly throughout the entire treatment process. Under proper medical treatment guidelines, all physical and emotional issues need to be addressed by the appropriate specialists (i.e., liver disease by liver specialists, Bipolar disorder by psychiatrists, psycho-social and interpersonal issues by psychologists, etc.).
Once all specialized assessment and treatment guidelines are completed in a proper inpatient (detox/rehab) or outpatient setting, patients can then safely begin proper psychosocial follow-up, which may include regular self-help groups and 12-step support. Proper treatment of addiction is multifaceted, complicated and comprehensive, and shouldn't be confused with self-help groups such as 12-step programs or other non 12-step alternatives, which are a necessary adjunct to addiction treatment but categorized as addiction support."
Dr. Mohammad and his team will be holding an intense series of town hall meetings, which will be dedicated to educating the public about the proper course of action when treating addicts and selecting the most effective drug rehab. Mohammad added, "There is profound difference between addiction treatment and addiction support and knowing the difference can spell the difference between successful recovery and relapse. People need to know they are being misled by many facilities and our team is here to make sure the public is armed with the truth.
For more information about Dr. Akikur Mohammad, addiction treatment and Inspire Malibu, visit http://www.inspiremalibu.com.
For more information about Inspire Malibu's town hall series, contact Jed Wallace at jed(at)streetrelations(dot)com.