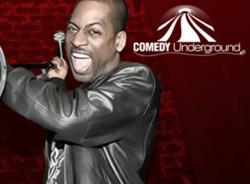 Comedy Underground was created to showcase seasoned comedians that have been overshadowed in mainstream entertainment
Los Angeles, California (PRWEB) March 21, 2012
Tony Rock brings to the stage six of the funniest veterans of comedy for the Top Tier Entertainment Group and SLE Productions live taping of the original new DVD series, Comedy Underground. Join West Coast comedians Luenell Campbell, Hope Flood and Scruncho for a stand-up/stand-off against East Coast funny men Talent, Freddie Ricks and Rob Stapleton in a gut-busting extravaganza lovers of humor will not soon forget. It all goes down on Wednesday, March 28, 2012, 7:00 pm, Club Nokia, 800 W. Olympic Blvd., Los Angeles, CA 90015. Red carpet arrivals begin at 6:00 pm with pre and post-show mixers. http://www.ticketmaster.com/Tony-Rock-tickets/artist/855402
Executive Producer Angela White says, "Comedy Underground was created to showcase seasoned comedians that have been overshadowed in mainstream entertainment. There are less urban sitcoms now than in the 90's, making it hard for good comics to land TV deals and big feature film roles. Comedy Underground will help shed more light on these talented performers."
Comedy Underground is thrilled to have actor/comedian Tony Rock on board as host to keep the party rolling. Rock is a proven master of ceremonies who lives, knows and appreciates great comedy. He is the brother of actor/comedian Chris Rock and has worked as his back-up and appeared on his sitcom, Everybody Hates Chris, in the recurring role of the title character's uncle, "Ryan." Rock also co-starred as "Dirk Black" on the long-running UPN/CW sitcom created by Will Smith and Jada Pinkett-Smith, All of Us. Rock previously hosted TV One's The Funny Spot and has his own sketch comedy series, The Tony Rock Project, broadcast on My Network TV. http://www.imdb.com/name/nm0734203/
Actress/comedienne Luenell of the upcoming comedy feature, That's My Boy (with Adam Sandler), walks into the spotlight alongside funny lady Hope Flood and BET Comic View favorite and actor Anthony "Scruncho" McKinley. The trio will be representing the West Coast in a two-show, fun-filled face-off with East Coast homeboys Talent Harris, host of NYC hotspot The Boston Comedy Club, celebrity impersonator Freddie Ricks of Showtime at The Apollo, and Rob Stapleton of Comedy Central's Comic Groove.
In addition to the farcical host and the uproarious cast of clowns, Comedy Underground will feature music by DJ Rashida and will have plenty of celebrities in the house to cheer the comics on. http://www.comedyundergroundseries.com
Press inquiries, talent submissions and red carpet credentials must be submitted by Monday, March 26, 2012, 5:00 pm PST.