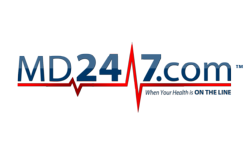 MD247.COM is the only affordable health and wellness promise to anyone living under your roof.
Tampa, FL (PRWEB) March 21, 2012
St. Petersburg Florida based telemedicine provider MD247.COM revealed today that according to a recent review, the global telehealth industry is poised for explosive growth over the next ten years. The reasoning behind the growth is actually two-fold, in that the United States has an aging population "boom" which is hitting milestone years for failing health and this then pairs with the reality that the government simply can't pay for everything. Unable to invent a "money tree," public healthcare programs like Medicare are finding that they reduce the number of hospital visits and do everything that they can to prevent return admissions to the hospital for the same medical problem. In an effort to deal with this problem MD247 was first founded locally, and then rolled out state by state until full market coverage was announced on March 17th.
The field of telehealth sounds sterile when considering its applications for hospital monitoring, but there are methods with which to bring the technologies into use for the everyday moments like a child with an earache. The shift from the hospital having the power to the patient having the power is a shift toward a system called "telemedicine," or possibly the type of concierge twenty-four hour "get a doctor fast" programs that athletes and rock stars enjoy. A patient being able to call the medical professional when he is needed, instead of waiting for the hospital to send a patient home with an application that monitors health, saves both man hours and dollars. This all sounds fantastic until the thought of fees comes up.
"MD247.COM is the only affordable health and wellness promise to anyone living under your roof," says MD247.COM Founder Thomas Meehan.
MD247.COM provides individual consumers and families who either do not have health insurance or are searching for a health option which puts the power in their hands, the opportunity to access a medical professional twenty-four hours a day by phone and cash in on huge healthcare related discounts. Members can literally call at 3:00 AM, explain symptoms and get squared away with a discounted prescription filled at a local Wal-Mart or CVS before the normal alarm clock for works goes off. MD247.COM removes the worry and puts the price attached to it as low as an affordable $35.00.
MD 247 is a twenty-four hour a day affordable concierge telemedicine company based out of Seminole Florida. All members have unlimited twenty-four hour telephone access to a nationwide medical support team with just a phone call. MD247.com has a virtual platoon of Registered Nurses and board certified physicians in each and every state available to members for ALL non-emergency situations. You can learn more about MD247.com by visiting http://www.md247.com.