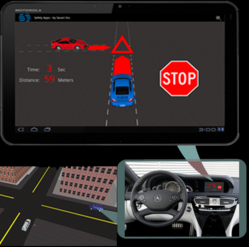 Novi, MI (PRWEB) March 22, 2012
Savari will be demonstrating a few V2V safety applications on its next-generation SDK. The demonstration will use live Basic Safety Messages (BSMs) from multiple cars (in real-time emulation) in various traffic scenarios. Passenger warnings and safety alerts will be displayed using applications developed by Savari for Android and iOS devices.
Ravi Puvvala, CEO, Savari will be discussing the scalability challenges, both technical and infrastructural, that will need to be overcome for successful V2V and V2I deployments. He will also be leading the panel session on "V2X & ADAS: Complementary Technologies to Improve Road Safety" wherein the panel will address whether ADAS technology offerings will compete or provide complementary solutions with V2X technology.
About Savari, Inc.
Savari is mobilizing Intelligent Transportation Systems (ITS) with cost-effective hardware and software solutions that enable V2X based connectivity. The company is a chosen supplier for various US Department of Transporation's ITS procurements and testing including their Connected Vehicle Technology Research Project.
Savari is a privately held company with headquarters in Santa Clara, CA, USA. It maintains close partnerships with automotive OEMs, traffic controller companies, system integrators and semiconductor chipset vendors.