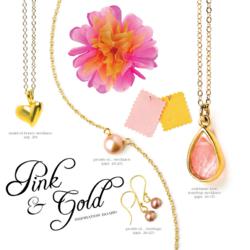 Color plays a huge role in this collection. The color palette sets the tone for the entire wedding experience. It tells a story about the couple. It's also a lot of fun! We wanted to offer a rainbow of gemstone jewelry to complement any color story."
Los Angeles, CA (PRWEB) March 21, 2012
Dogeared Jewels & Gifts, a trendsetting fashion brand known for innovative designs and a cool California aesthetic, is proud to present the Dogeared Bridal Collection 2012, featured in a 34-page catalog. To celebrate all things "I Do," the collection offers gorgeous jewels that can be worn and treasured long after the wedding celebration.
"Jewelry is one of the personal touches that makes a wedding unique. When I designed this collection, I thought about what brides care about most: matching their wedding colors, finding jewels that unify the bridal party's look, and giving personal, meaningful gifts to the people they are celebrating with," explained founder and designer, Marcia Maizel-Clarke.
The Dogeared Bridal Collection 2012 features necklaces, pendants, bracelets, and earrings made in sterling silver, gold, and rose-gold, with hand cast charms, pearls, and faceted gemstones. The Pearls Of…. Collection offers white, gold, rose, and silver pearls, while gemstones are available in more than 10 colors. Select styles feature small diamonds handset within a charm.
"Color plays a huge role in this collection," continued Maizel-Clarke. "The color palette sets the tone for the entire wedding experience. It tells a story about the couple. It's also a lot of fun! We wanted to offer a rainbow of gemstone jewelry to complement any color story."
The jewelry comes on custom printed cards with messages for the recipients. Celebrate Love, Pearls of Love, Love Knot, Bridesmaid, Sister, and Thank You, are some of the options.
Packaged in a Dogeared Bridal gift box, retail prices range from $30 to $135.
Dogeared Jewels & Gifts
Designer Marcia Maizel-Clarke founded Dogeared Jewels & Gifts just over 20 years ago in Southern California. Originating word jewelry, she began creating beautiful pieces with the purpose of putting positive, peaceful, and loving energy into the world. This energy has always included being kind to the planet, handcrafting all the jewels and gifts in California, and working with non-profit organizations sharing a vision of a better world. Dogeared's unique, custom-cast jewels are regularly featured in fashion, lifestyle, and celebrity publications, in films and on television shows. Trendsetting retailers around the world, including Nordstrom, Neiman Marcus, Bloomingdale's, Fred Segal, and ABC Home, all carry Dogeared. Dogeared is a certified B Corporation. Please visit http://www.dogeared.com for Dogeared's online flagship store. For wholesale information, visit http://www.dogearedwholesale.com.