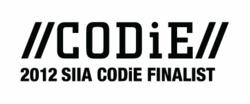 San Francisco, CA (PRWEB) March 21, 2012
GoodData, a cloud-based enterprise Business Intelligence (BI) platform, announced today it has been selected as a finalist in the "Best Business or Competitive Intelligence Solution" category by the Software & Information Industry Association (SIIA).
"It's always an honor to be recognized for any industry award and this is no exception," said Roman Stanek, founder and CEO of GoodData. "We support SIIA and are particularly pleased to be a CODiE Award finalist as acknowledgment by industry peers is always a high honor."
GoodData is competing in the "Best Business or Competitive Intelligence Solution" category that looks at applications and services that best enables business managers to make strategic decisions. As a finalist, GoodData is getting early acknowledgment and recognition for helping to transform business intelligence and revolutionizing the way organization interact with data.
The SIIA CODiE Awards recognize the software and information industry's finest products and services and honor excellence in corporate achievement. One hundred and nineteen finalists were chosen from 458 companies through a unique combination of journalist and expert peer review.
The 27th annual SIIA CODiE Award winners will be announced on Thursday, May 10, at the CODiE Awards Presentations held in conjunction with the SIIA's annual All About the Cloud conference.
About GoodData 
GoodData is a disruptive, cloud-based enterprise platform for business intelligence. The GoodData technology is intuitive, secure and fast. It helps convert big data into profitable insights and strategies for business executives. GoodData is trusted by companies like Enterasys, Capgemini, and Software AG, and embedded into offerings from cloud innovators like Zendesk, Get Satisfaction and Pardot. Headquartered in San Francisco, GoodData is privately held and backed by leading venture capital firms, including Andreessen Horowitz, General Catalyst Partners, Fidelity Growth Partners, and Windcrest Partners.