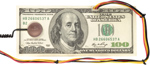 There will be significant volatility in this sector, as technology is moving at a rapid pace for lithium battery systems in electric cars.
New York, NY (PRWEB) March 22, 2012
Sasha Cekerevac, co-editor for Penny Stock Detectives, points out that the high cost of gas is forcing companies to develop new technologies, including electric cars. In his recent Penny Stock Detectives article, Cekerevac says that China and other emerging economies want millions of electric cars on the road and, in order for that to happen, lithium batteries need to be improved.
According to Cekerevac, A123 Systems is a company that develops and manufactures lithium battery systems. "The company has spent a lot of money and time researching lithium battery technology for electric cars to be used for both hybrid electric and pure plug-in electric vehicles. As with any new technology, firms on the leading edge can go through rough patches as they are continuing their research and development phase. A123 is no different and this shows in a volatile year, with a 52-week range of $8.26-$1.51," says the editor.
Currently, A123 Systems' stock trades near the bottom end of the range after its recent earnings release showed a bigger loss than expected and a write-down. Cekerevac notes how the maker of lithium battery systems for electric cars reported a loss of $85.0 million for the quarter, compared to a loss of $45.8 million last year. However, he says, revenue did increase 64% to $40.4 million in the quarter.
This is a battle between research and development costs versus the time needed to increase revenue that will cover operating costs. The bright spot, Cekerevac observes, in addition to the increase in revenue, is that A123 does have deals with some major vehicle manufacturers, such as General Motors and BMW.
Cekerevac also believes that investors should take a look at Valence Technology, another firm developing lithium battery technology for use in electric cars. Since 2005, Valence has powered over 60,000 vehicles with its lithium battery systems. This firm is also interesting, according to Cekerevac, in that it has expanded to include non-vehicle uses for lithium battery systems. Its "U-Charge" lithium battery solution is applicable in several industries outside of the vehicle sector. For 2012, Valence expects revenue to be in the range of $43.0 million to $44.0 million.
This is very early in the development of electric cars and lithium battery power systems and that makes it very difficult to forecast five to 10 years in the future, Cekerevac warns. There will be significant volatility in this sector, as technology is moving at a rapid pace for lithium battery systems in electric cars. Cekerevac predicts that some firms will have too many costs and will be unable to continue, while the firms that do survive might become true global leaders in the development and implementation of lithium battery technology worldwide.
Published every business day, Penny Stock Detectives researches and analyzes low-priced opportunities in the stock market and individual stock market sectors. Penny Stock Detectives reports on penny stocks, small-cap stocks, micro-cap stocks, high-profit potential plays mostly under $10, and the stock market in general.
To see the full article and to learn more about Penny Stock Detectives, visit http://www.pennystockdetectives.com.
The editors of Penny Stock Detectives believe low-priced stocks, when researched properly, present investors with great opportunities to accumulate wealth and to increase the value of their investment portfolios. You can learn more about Penny Stock Detectives at http://www.pennystockdetectives.com.