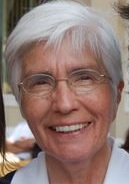 "The training at the Rosalie Rendu Center not only teaches students English, but helps to raise the self esteem of our students to help them excel in their lives."
East Palo Alto, CA (PRWEB) March 21, 2012
Sister Trinitas Hernandez, D.C., of East Palo Alto's Rosalie Rendu Center was recognized as one of six recipients of the 2012 Local Heroes Award presented in the Sixth Annual event by the Midpeninsula Community Media Center located in Palo Alto, California. The award was formally presented during a reception and public screening on Sunday, March 18. This event kicked off a week long celebration that includes a nightly screening of a video featuring each of the honorees.
Sister Trinitas ("Sister T"), a Daughter of Charity for more than 50 years, established the Rosalie Rendu Center in 1997, with the help of the Junior League of Palo Alto•Mid Peninsula. Together, she's helped hundreds of adult students and their children to speak English, gain new life skills and achieve more success in their lives by acquiring new jobs, buying homes, going to college and achieving higher self esteem in many areas of their lives.
Sister T previously worked in various parts of the world in residential schools established for young boys, troubled children and the developmentally disabled. She has ministered to homebound individuals, was an administrator serving teens and worked in an outreach program for migrant farm workers and their families. In 2007, Sister Trinitas celebrated her 50-year anniversary as a Daughter of Charity with family and hundreds of friends at the Carriage Manor Apartment complex where the Rosalie Rendu Center is housed.
Implemented by the Midpeninsula Community Media Center in 2007, the Local Heroes Awards are awarded to "unsung heroes" in the Media Center's service area, which includes Palo Alto, Menlo Park, East Palo Alto, Atherton and Stanford. Each year, the public is invited to nominate their favorite "hero" and a committee of staff and volunteers reviews the applications and selects the honorees. Each honoree is interviewed and videotaped to be viewed at the public reception and television screenings, and each honoree receives a copy of the video, which they can use to promote their cause.
In Sister T's video, she talks about the fear associated with coming to a new country and the intimidation involved with not speaking the language. She says, "The training at the Rosalie Rendu Center not only teaches students English, but helps to raise the self esteem of our students to help them excel in their lives."
Over the years, Sister T won a California State Assembly's Woman of the Year award, the Jefferson Award from CBS 5 and a Community Leadership Award from the San Francisco Foundation. You can learn more about the Rosalie Rendu Center on their website or by calling the Center at 650-973-9522.
The Rosalie Rendu Center is hosting their bi-annual Rosalie Rendu Center Friends' Luncheon "Growing Through Education" on April 25, 2012, from 11:30am to 1:00pm, featuring guest speaker, Chris Bischoff of Eastside Preparatory School in East Palo Alto. Bill Somerville, Philanthropic Ventures, will be the emcee. For more information, to reserve a seat or to make a donation, please contact us.
About Rosalie Rendu Center
The Rosalie Rendu Center, a 501(c)3 non-profit organization located in East Palo Alto, offers English as a Second Language education for local residents at no charge. Located in the Carriage Manor Apartments on Bay Road, the Center holds day and evening classes four days a week in two classrooms, along with a Kindergarten readiness class for the students' children. Our mission is to break the cycle of poverty by educating, mentoring and raising the self-esteem of the entire family.
###