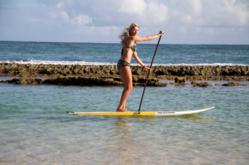 Suzie Cooney combines imagination, inspiration and perspiration. She's a one-of-a-kind waterwoman; a brilliant and patient teacher.-Susan Casey,bestselling author and editor in chief of O, The Oprah Magazine
Maui, Hawaii (PRWEB) March 21, 2012
Women's Luxury SUP Adventure: The Suzie Cooney Stand Up Paddle Fitness Experience at Lumeria Maui
May 27th – June 2nd, 2012 Maui, Hawaii
Your health is your wealth, so join world-renowned professional stand up paddler and fitness expert, Suzie Cooney, and live the Maui SUP lifestyle. You will feel healthy the moment you arrive. Four women will paddle daily on warm waters, enjoy yoga, massages and fresh organic meals, explore and experience luxurious and tranquil accommodations for a week to remember.
"Suzie Cooney combines imagination, inspiration and perspiration. She's a one-of-a-kind waterwoman; a brilliant and patient teacher. Oh, and she is also a complete badass, which is the highest compliment I can possibly give." —Susan Casey, bestselling author and editor in chief of
O, The Oprah Magazine.
We invite you to our exclusive luxury stand up paddling health and fitness experience on the worldwide SUP island destination Maui, Hawaii. Each guest will enjoy tropical warm waters, personalized SUP coaching and instruction, expert fitness training, organic meals prepared by Chef Ben Diamond, massage, yoga and premium products representing the SUP lifestyle, while staying on the beautiful North Shore at Maui's new stunning and tranquil retreat center, Lumeria Maui.
Suzie Cooney is a globally recognized athlete and pioneer of SUP and as a professional fitness trainer, SUP clinic/event producer and instructor offers unique standup paddling fitness training techniques to better improve your standup paddling skills, body strength and water and ocean confidence. You will learn about water safety, board control, and fine-tune your stroke. Suzie will introduce you to beginner waves, a mini downwinder, and help you discover all the healthy benefits of SUP.
Maui is a worldwide SUP destination offering clear blue warm waters and tropical breezes. Everyone dreams of stand up paddling on Maui, for it is recognized as one of the birth places of the sport and presents the most amazing backdrops. Enjoy this special, healthy, one of a kind experience and glide across the ocean at some of the most renowned SUP setting locations.
Lumeria Maui is a stunning oasis of tranquility, operating a luxury educational retreat center, connecting people with the sacred 'aina and the mystery of Maui. Located on 6 magnificently landscaped ocean view acres in the North Shore just above the historic plantation town of Paia. The 1909 historic buildings features 24 luxurious guest accommodations. Lumeria Maui host daily educational classes in organic horticulture, watersports and yoga with a farm- to-table dining experience. The world-class menu is sourced from Lumeria Maui's own gardens and local organic farms.
For more information: Stand Up Paddling Fitness
About Suzie Cooney
###