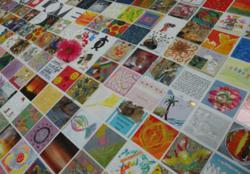 You do not really want the incessant conflict. You really want peace. You can decide for peace today. Now! It is your natural heritage. It is given you by God."
Wisconsin Dells, WI (PRWEB) March 21, 2012
A Course In Miracles International is again making a worldwide appeal for individual participation in the creation of the World Peace Mosaic, a massive collage of individually created 4- or 8-inch square tiles, with each tile representing the contributor's pledge and commitment to take personal action for the attainment of peace.
The Peace Mosaic will be showcased on the United Nations International Day of Peace (September 21) as part of the ten-day celebration of International Forgiveness Week and Weekend of Perfect Peace, from September 14th through September 23rd, 2012, at the Miracles Healing Center in Wisconsin Dells, WI., USA.
The creation of the Peace Mosaic presents, on a scale that has never been attempted before, an opportunity for everyone in the world to join in a single purpose of peace. Every member of every nation is invited to participate by contributing at least one tile.
In an announcement to local Wisconsin Dells residents, Event Coordinator, Nancy Reid said, "This is a project that anyone regardless of age, gender, educational level, religious or political affiliation, can get involved in. Cut out a 4 x 4 inch square piece of paper, card, wood, or any material. Paint, write, draw, or even stick a photograph on it; let it represent your peace pledge and send it to us to include in the Peace Mosaic.
"You do not have to be an artist or a poet to participate. All it takes is a desire for peace now. Let's give peace a chance. It has to start with you in your own mind. Your own warring mind is what you see reflected in the world. You do not really want the incessant conflict. You really want peace. You can decide for peace today. Now! It is your natural heritage. It is given you by God."
According to local artist , Rose Mary Bergmann, whose art and commitment to peace will also be represented in the Peace Mosaic, "I want Peace of Mind, and the one thing that has given me consistent opportunities for peace of mind is A Course In Miracles... I've learned that to experience Peace of Mind I must give up my continual judgments... The daily lessons have consistently reminded me that I can have Peace of Mind. The action I need to take each time is forgiveness."
As A Course In Miracles teaches, "Today we will attempt to offer peace to everyone, and see how quickly peace returns to us. Light is tranquility, and in that peace is vision given us, and we can see."
Determined to spread the word in a fun and engaging way, the Cheese Factory Restaurant in Wisconsin Dells has designed special place mats that patrons and their children can use to make their Peace Mosaic tiles.
Peace Mosaic Tile-making kits will shortly be available online at http://www.forgivenessweek.org/peacemosaic.php for a nominal fee.
To be notified when the kits become available, click the "Contact Nancy" link at the bottom of the Peace Mosaic page, fill in your name and email address and write "notify" in the message field.
The Peace Mosaic Tile kits will each contain 6 pre-cut blank paper tiles, colored pens, paint and a prepaid mailing envelope (Please note that prepaid envelopes will be available to US-based customers only).
Event Coordinator, Nancy Reid stressed that "The Peace Mosaic Kits are offered as a convenience. You do not have to buy one. You can make make your mosaic tile using any material you like."
Easy-to-follow directions on how to make a tile for the Peace Mosaic, and where to send it can be found on the event website:http://www.forgivenessweek.org/peacemosaic.php
A Course In Miracles International is a not-for-profit organization dedicated to "serving humanity through the healing power of forgiving love."
###