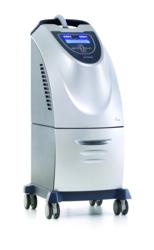 The versatility of Reaction™ is a great advantage and we look forward to incorporating the device into our product offerings
Austin, TX (PRWEB) March 21, 2012
NEWU Plastic Surgery is proud to announce the installation of Viora's Reaction™, a leading medical aesthetics device. This clinically proven, FDA-cleared device addresses the most requested and popular medical aesthetic procedures.
As the first clinic in Austin with Reaction™, NEWU Plastic Surgery's patients will benefit from the most advanced solution available for both face and body contouring and cellulite reduction. The CORE™ technology in the Reaction™ device ensures client safety, comfort and efficiency, as well as faster treatment times, all of which clients greatly appreciate.
"The acquisition of Reaction™ by Viora ensures that we can provide our patients with top-notch technology and function for contouring and cellulite reduction," said Dr. Daniel Leeman, Medical Director and owner of NEWU Plastic Surgery. "The versatility of Reaction™ is a great advantage and we look forward to incorporating the device into our product offerings."
"I couldn't believe the difference was noticeable after my first treatment," said L.B., Reaction patient. "Now I can't wait for the rest of my sessions – I'm positive that I'll be very pleased with the final results!"
"We are thrilled to enter the Austin, Texas market and work with NEWU Plastic Surgery," said Eliran Almog, CEO of Viora Inc. "This ensures that patients in the Austin area now have access to Reaction™'s advanced RF treatments for contouring and cellulite reduction, and can receive safe, pain-free, clinically proven treatments."
About NEWU Plastic Surgery
Dr. Leeman is committed to providing his patients with the highest level of quality care and service. He feels that the personal one-on-one time spent during the consultation is critical to understanding the patient's needs and desires, thereby achieving the best results possible. Dr. Leeman stands out from the rest by using the latest technological approach to plastic surgery to achieve a more natural appearance. Contact Kelly Ayoub at 512-478-6398 for more information.
About Viora
Viora is a market leader in the development of technologically advanced medical aesthetic systems for physicians and aesthetic clinicians worldwide. Dedicated to the research and development of safe and effective devices, Viora provides the highest standard of professional grade solutions while keeping aesthetic businesses in mind.