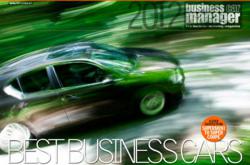 London (PRWEB UK) 21 March 2012
Editor Ralph Morton said: "The last 12 months may have been up and down in the world of business but car makers haven't been holding back. They've launched a wide range of models from economical but great driving superminis to head-turning SUVs and economical hybrid vehicles.
"We've brought together the very best and while they straddle a mix of classes and sectors, they're united by one attribute - they're all great additions to your business."
The overall winner, claiming the coveted prize of Business Car of the Year 2012, is the new BMW 3 Series in 320d form, offering an unbeatable combination of competitive running costs, strong performance, low driver taxation, impressive environmental credentials - and good, old fashioned driving fun.
Ralph said: "In an age where business car drivers are being tempted on all sides by crossovers and SUVs, BMW has proved that there is still a place for the traditional saloon. While we reckon you'll be completely satisfied no matter which model you go for, it's the 320d that makes the complete case. It drives better than most hot hatches, transports four adults in comfort, does 63mpg, 119g/km of CO2 - equivalent to a 15% company car tax rating in 2012/13 - and around 800 miles on a tank of diesel thanks to modes such as ECO PRO and enhanced EfficientDynamics.
"It's a truly superb business machine that scores top marks in every single category. And we'd be very happy indeed to have one outside our house - or business."
Business Car Manager – at businesscarmanager.co.uk - was launched in 2006 and aims to help small businesses and SME firms to run their business cars efficiently and cost- effectively. The site receives 1.2 million page impressions and 360,000 unique visitors a year. Business Car Manager have the latest new car & new van news and business car reviews, as well as advice on vehicle finance, car leasing, car and van insurance, business car management and the latest on company car tax.
The winners in the Best Business Car Awards 2012 are:
Best Sub-100g/km Business Car
Winner: Kia Rio 1.1 EcoDynamics
Commended: MINI One D
Commended: Audi A1 1.6 TDI
Commended: VW Golf Bluemotion
Best Business Car for First Year Allowances (sub 110g/km)
Winner: BMW 320d EfficientDynamics
Commended: Ford Fiesta 1.4 TDCI
Commended: Citroen DS3 1.6 HDI
Commended: Fiat 500 Multijet
Best Company Car
Winner Ford Focus 1.0T EcoBoost 125PS
Commended: VW Golf Bluemotion
Commended: Toyota Auris Hybrid
Commended: Skoda Octavia Greenline
Best Estate Car
Winner: Hyundai i40 Estate
Commended: Ford Mondeo Estate
Commended: Volvo V50 DRIVe
Commended: Skoda Octavia Estate
Best Executive
Winner: New BMW 3 Series
Commended: Audi A4 TDIe
Commended: VW Passat Bluemotion
Commended: Merc C-Class
Best Executive Estate
Winner: Audi A6 Avant
Commended: BMW 5 Series Touring
Commended: Mercedes E-Class Estate
Commended: Volvo V60
Best Micro Business Owner's Car
Winner: MINI Countryman Cooper D
Commended: VW Golf GTD
Commended: Audi Q3
Commended: Vauxhall Astra GTC
Best SME Director's Car
Winner: BMW 520d EfficientDynamics
Commended: Jaguar XF 2.2D
Commended: Audi A7
Commended: Mercedes CLS
It's My Business and I'll Buy What I Want To
Winner: Range Rover Evoque SD4
Commended: Audi Q5 3.0TDI
Commended: BMW 640d
Commended: Porsche Panamera Diesel
Best Business Car of the Year 2012
Winner: New BMW 3 Series