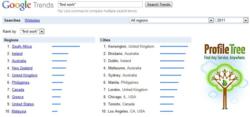 The UK's position in Google Search for 'Find Work' in 2012 is a significant real time reflection of the state of the economy today.
Belfast, Northern Ireland (PRWEB UK) 22 March 2012
Research by website ProfileTree.com has shown a major global shift in the way people are using online search engines to 'find work'. In 2011 Ireland held the 2nd highest ranked country under the Google search 'find work', UK was 5th, Greece 8th and USA came 9th. In 2012 trends indicate that more people are now searching for this term - with the UK moving from 5th in 2011 to 2nd in 2012.
South Africa and Ireland have been replaced from position 1 and 2 by Australia and the UK. Australia moved up 2 places from 3rd to 1st, the UK moved 3 places up the rankings from 5th to 2nd. Canada placed 7th in 2011 is now running 3rd and the USA - placed 9th in 2011 is currently holding 4th place. Since January 2012 Australia has been the highest-ranking country with the most searches for the exact term 'Find Work'.
A similar trend is emerging with city specific searches. The upmarket area of Kensington in London recorded the most searches in 2011, followed by Brisbane and then Dublin. Australia had 3 cities listed in the top 10 of 2011 - Brisbane, Melbourne and Sydney, the USA had Los Angeles and Chicago - Manila in the Philippines, Greater London and Singapore completed the top 'find work' cities of 2011.
However, a dramatic shift happened towards the end of 2011 and at the beginning of 2012 meaning Dublin and Manila have dropped out of the top 10 - replaced by Toronto in Canada and New York. The top 5 cities are from Australia - Brisbane, Melbourne with Sydney following along with Kensington and Greater London which moves up to 5th from 7th. The rise in searches in the entire London region means that the UK has moved up to 2nd in the overall rankings.
What does this mean for the state of the economy - or for people who are trying to find work during 2012?
We at ProfileTree.com have been reviewing these Google trends and talking to self employed people trying to find work via our website ProfileTree.com and through our own social media pages.
It is possible that these metrics actually reflect migration - where mobile people in countries that have suffered hardest during the current decline use the internet to try and 'find work' by typing in this exact search term during 2011 and previous years. But, towards the end of 2011 and start of 2012, as people have continue to move towards traditional migration centres such as the USA, America, Australia and London in the UK - it can be argued that it is no surprise that these regions dominate the 'find work' search online.
We are confident that these trends will be reflected in local benefit claims, registered numbers of unemployed and global remittances during 2012. This research also shows how people are trying to find work using every possible means at their disposal. We have seen year on year how the internet becomes more and more valuable at helping people 'find work'. Today, it is even more important that people have a skills profile online that stands out. Job seekers need to present an excellent image to any possible customer or future employer. ProfileTree predict that a skills profile will be one of the most important online tools people can have in this new age of job searching. It is important for people be found easily and to have some control what people see about you when reference checking.
About Google Trends
"With Google Trends, you can compare the world's interest in your favorite topics. Enter topics and see how often they've been searched on Google over time."
About ProfileTree
ProfileTree (http://www.profiletree.com) is a new website that allows people to advertise their services for free. Their mission is to help people find work, both employed and self employed. Users can create a profile and offer their skills or service to their local market or to a global market online. Using ProfileTree self employed or skilled people can create a skills profile that will be promoted online for them. Users can control what people see about them when they search for their service, business or skills profile online.
ProfileTree has a head office in Belfast, Northern Ireland - but partners around the world to ensure maximum support for each global region. Articles and tips are provided for people to maximise their presence online, find work and create a skills profile that gains new customers.
Contact for more Information:
Ciaran Connolly
International Operations
ProfileTree: http://www.profiletree.com
Phone: 0044 2895 810610 Mobile : 07733951638
Email: ciaran(at)profiletree(dot)com