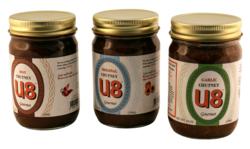 Boca Raton, FL (PRWEB) March 22, 2012
Gary Bloom of the U8 Sauce Company announced today that the first 3 flavors of U8's Gourmet Chutney sauces are available online and in select stores in South Florida.
Epicure Gourmet Market, Carmines Gourmet Market, To the Moon Marketplace, Brothers Farmers Market and Ralph's International Market will be carrying this authentic line of products after these chutneys received enthusiastic responses in taste tests.
The first shipment of sauces include Original, Garlic, and Hot.
These chutneys are best described as an umami fruit relish with a taste of sweet peach with a hint of apricot, apple and spices coming through. They make a great addition to hamburgers, chicken, seafood, fries and cheeses. Their versatility has made them extremely popular and an exciting accompaniment to most any dish.
The decades old recipes will continue to be produced in small batches to ensure the integrity and quality of the original flavors.
They contain no MSG, High Fructose Corn Syrup or Trans-Fats, and are high in vitamin C.
U8 plans to follow this 3 flavor debut with an additional 7 flavors to hit stores in the next 12 months.
U8 Sauce Co. is a Boca Raton, Florida based corporation and all production is in the USA.
For additional information contact:
Gary Bloom, U8 Sauce Company, at garbloom(at)u8sauce(dot)com or 561-666-8283.