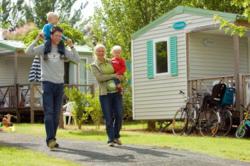 Best value camping holiday France - 25 Aug. to 1 Sep. from just £261!
Bristol (PRWEB UK) 21 March 2012
EuroParcs' Guide to Camping in France and Spain reveals the top ten tips on how to get the best value for their Pound/Euro this summer.
Rod Jones, EuroParcs director was ask why he felt this guide was needed. "EuroParcs is family owned and we speak to lots of customers every week and we found we were getting asked the same sorts of questions, when's the best time to book for a good price or what the best ferry crossing etc..."
Jones goes on to say "we thought here's an opportunity for everyone at EuroParcs to combine their campsite holiday knowledge and experience to help customers"
Below is a preview of EuroParcs' Camping Guide due to be launch on their website later this month:
Tip 1: Best value Camping Holiday in France - 25 Aug. to 1 Sep. from just £261! Clubs and activities are still running, accommodation can be less than half the price of the same accommodation three weeks earlier.
Tip 2: Best value Ferry crossing - Brittany Ferries Fri. afternoon outward, Sun. morning inward from Just £153 supplement!
EuroParcs remaining tips will be available online from the 31 March.
About EuroParcs:
For 24 years EuroParcs have been providing quality campsite holidays in mobile homes at prices as much as 40% less expensive than competitors at the same campsites. EuroParcs' 3 flagship campsites are La Garangeoire (Vendee), Le Ruisseau (Biarritz) Vilanova Park (Barcelona) and customers have the chance of booking accommodation only or ferry inclusive packages.