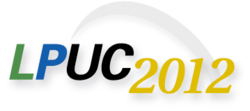 Lifepoint CEO, William Seay comments, "This year's conference far exceeded expectations as to the number of attendees, the number of clients represented...demonstrating that Lifepoint leads the field in healthcare connectivity and integration."
Glen Rock, NJ (PRWEB) March 22, 2012
Lifepoint Informatics, a leader in health information technology held its 2012 Lifepoint Informatics User Conference (LPUC) on Thursday, March 1st at Lowes Portofino Bay Hotel in Orlando, Florida. This year's LPUC provided Lifepoint Informatics clients with the latest information about the company's product innovations, release updates and enhancements along with information about industry trends in the rapidly evolving field of healthcare information technology. Lifepoint Informatics Senior and Technical Management Teams joined with over 40 clients for a day of information, education, networking and collaboration.
Keynote speaker Bruce A. Friedman, MD, Emeritus Professor of Pathology at the University of Michigan Medical School and President of the Pathology Education Consortium got the audience's attention with his presentation, "The Continuous Search for Greater Lab Functionality: Best of Breed LIS Versus Enterprise Wide Solutions." Dr. Friedman is credited with having named the field of Pathology Informatics and is involved on the faculty of Pathology Informatics 2012 which will be held in Chicago on October 9 – 12, 2012. Pathology Informatics 2012 is a combination of APIII and Lab Infotech Summit.
Dr. Friedman was followed by Lifepoint's Technical Team that provided practical and technical product information, EMR integration and connectivity achievements, ICD-10 updates, new approaches and connectivity resources along with live demonstrations of the latest in lab connectivity technology.
LPUC provided a client focused afternoon featuring real life situations that highlighted laboratory outreach connectivity, health information exchange and clinical data interoperability, presented by current Lifepoint clients. Featured presentations were given by Robert Weeks, Director Business Solutions from Memorial Hermann Healthcare, Fred Ferrara, CIO from Aurora Diagnostics and Varen Herman, National Sales Manager, Clinical SBU Leader from NMS Labs.
According to Lifepoint CEO, William Seay, "This year's conference far exceeded expectations as to the number of attendees, the number of clients represented and for the quality of the information presented. This client support demonstrates that Lifepoint continues to lead the field in healthcare connectivity and integration. We are excited for next year's conference which will offer even greater education and collaboration opportunities for Lifepoint clients."
Lifepoint's clinical laboratory operations solutions simplify electronic results delivery across diverse and disparate platforms. Lifepoint works directly with clients to enhance existing solutions to deliver the highest level of interoperability to create a balanced approach to laboratory and hospital outreach connectivity.
A trusted leader in health information exchange, Lifepoint solutions focus on the importance of clinical integration, health information exchange, and data interoperability solutions for hospitals, hospital systems, and clinical laboratories. Lifepoint's vendor neutral data integration solutions facilitate health information exchange, enable successful outreach connectivity, EMR integration, EHR interfacing, physician portal, and quality reporting among disparate clinical systems. For additional information, visit http://www.lifepoint.com.
About Lifepoint Informatics
Lifepoint Informatics is a leader in healthcare IT serving the data connectivity, integration and communication needs of clinical laboratories, hospitals and health networks. Lifepoint Informatics develops, sells and supports healthcare information technology solutions nationwide to help healthcare providers improve patient care and lower costs through the use of information technology. Since 1999, Lifepoint Informatics has enabled over 200 hospitals, clinical labs and anatomic pathology groups to grow their market share and extended their outreach programs through the deployment of its ONC-ATCB Certified Web Provider Portal and its comprehensive portfolio of ready-to-go EMR and EHR interfaces. For more information please visit http://www.lifepoint.com or call 1-877-522-8378.
Contacts:
Lifepoint Informatics
Emily Ruffing, 201-447-3991 ext. 349
eruffing (at) lifepoint (dot) com