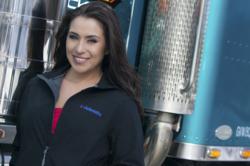 ...the units are compact, work great and keep me comfortable without idling my truck.
Fenton, MI (PRWEB) March 22, 2012
Webasto Product North America and Maya Sieber recently agreed to a strategic partnership that will focus on promoting idle reduction technology. Maya is an experienced long haul truck driver, most widely known as an Ice Road Trucker from season five of the television show. Whether she's hauling mulch and agricultural products for Pyskaty Trucking or chatting with her fans on Facebook and Twitter, Maya interfaces with thousands of drivers daily.
"Maya is a skilled driver, loves trucking and has followers on Facebook and Twitter that value her opinion. Her appeal to many in the trucking industry and passion for the job make her an ideal fit as a Webasto spokesperson," said Josh Lupu, Marketing Manager at Webasto. "We are excited to have Maya represent our brand and help spread the benefits of idle reduction technology."
Maya's truck is equipped with two Webasto products – a Thermo Top C coolant heater for engine pre-heat and an Air Top 2000 ST air heater for bunk heat. When asked about the heaters on her truck, Maya replied, "My first impression of the Webasto heaters was how small they are. When I toured their facility I expected to see these huge contraptions. But the units are compact, work great and keep me comfortable without idling my truck. It's a great feeling to know I'm saving so much money on fuel and helping to conserve the environment at the same time!"
Maya will be in the Webasto booth (11092 in the North Hall) at the Mid-America Trucking Show on Friday, March 23, and Saturday, March 24, from 10 am to noon to meet her fans and sign autographs. For more information visit http://www.GenuineWebasto.com