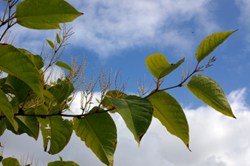 "Japanese Knotweed is becoming a huge problem worldwide and is destroying the foundations of many buildings and structures"
London, England (PRWEB) March 27, 2012
What is Japanese Knotweed and where did it come from?
Swamping vegetation as it grows the Japanese Knotweed was, as its name suggests, brought over from Japan by the Victorians who admired it, but little did they know that what they were bringing over was deadly invasive and would cost the UK Government £150 million each year in grounds maintenance costs.
Why is Japanese Knotweed such a problem?
Within Japan there are a number of predators which help to keep the Japanese Knotweed under control. Such predators are not present in the UK and so left to its own devices the Japanese Knotweed is tearing up tarmac, ruthlessly rooting underneath the foundations of a number of buildings and structures, taking over gardens and is even resulting in people not being able to obtain a mortgage on property located in an area where it is present.
It is a serious problem and definitely not a laughing matter; when Japanese Knotweed takes a hold and it will, it can be extremely difficult and expensive to eradicate. The reason why Japanese Knotweed is so difficult and costly to eradicate is because of what lies beneath.
There is a vast root system underneath the soil and this root system can extend to around 3 meters in depth and as far as 7 meters wide. It is this system which is the key point to bear in mind because although above ground Japanese Knotweed may seem contained to an area which is far away from any buildings or structures those roots, invisible to the naked eye could be in touching distance of concrete foundations or tarmac ready to pierce through.
How is Japanese Knotweed Eradicated?
As mentioned, it is difficult and costly for complete removal methods of Japanese Knotweed to be implemented. Research is being carried out into how better control over Japanese Knotweed can be achieved. This research is looking into introducing a species of predator which won't harm other plants in the UK but will be a control the Japanese Knotweed like it does in its native country.
Until this is proved successful, property owners who have Japanese Knotweed present on their land must take steps to ensure it is controlled and isn't going to cause any damage otherwise they could face prosecution. It is not as easy as just digging up the Japanese Knotweed and throwing it into the bin; as a controlled waste it must be disposed of properly as even a pea sized root transferred from one site to another could result in a new growth.
One of the most effective methods of controlling this deadly invasive weed is by using Roundup 360 Pro Biactive, the professional's weapon in the battle against hardy weeds like Japanese Knotweed. Its triple strength formula incorporates 360g/l of glyphosate making it the most effective method of weed control available on the market today.
Sold for professional use only Twistfix are one of the leading suppliers of Roundup 360 Pro Biactive and offer competitive prices to help defeat Japanese Knotweed, gain control and protect structures and buildings from damage caused by its extensive root system.
Fight back against Japanese Knotweed and use Roundup 360 Pro Biactive from Twistfix!
Twistfix are suppliers of wall ties, damp proofing, crack repair and basement waterproofing products.