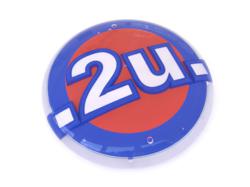 Bring a light sabre along and enjoy a great time out with Darth and the gang this weekend.
Brighton, East Sussex (PRWEB UK) 22 March 2012
Star Wars actress, Lynne Hazelden's drive to beat breast cancer and raise £100,000 for treatment is as strong as ever but there is still some way to go yet.
Beating breast cancer and raising awareness of kinder therapies for UK patients as well as funds for one's own treatment would make most people crumble, but actress Lynne Hazelden is determined to make it happen.
This weekend, Lynne who appeared as Kari Neth in Star Wars and TV shows, The Bill, Judge John Deed and Holby City, will be joined by Mike Lindup from pop band Level 42 and a plethora of Brighton's finest talents, along with Chewbacca, Darth Vader and other characters from Star Wars for two variety charity events.
The fun packed shows will be held at The Brunswick public house in Brighton on the 24 - 25th March and along with a line-up that promises a weekend of superb entertainment for all ages, a host of goodies, services and film memorabilia will be up for auction too.
Saturday's fun starts at 1pm with performances throughout the day by students from the Brighton Jazz School amongst others. Items for auction range from original signed photographs of Hollywood actor Samuel L. Jackson and golf champions, John Daley, Ernie Els and Retief Goosen to a Wilson golf driver signed by British Open and PGA Champion Padraig Harrington, a Bushnell Pink V2 Rangefinder and Ryder cup binoculars.
Level 42's Mike Lindup will headline at Sunday's 'Choose Life' event. The show also features magician Michael Vincent from Penn and Teller's 'Fool Us' and Grammy award-winning jazz musician Heather Cairncross. Keeping the children amused should not be too difficult either with the Southern Troupers, who play characters from Star Wars to help raise funds for charities, on the scene. Darth Vader, Chewbacca and other characters will be available outside the venue for photos before the event from 4pm to 6pm.
Sunday's auction is packed with donated goodies too including; business coaching lessons, singing lessons, massages, designer clothing, a Spanish dinner party for six and a whole more. It is sure to be a great weekend but for those who cannot make it there is still a chance to bid for the more high profile items on Ebay from Saturday 24th March for one week only.
The items, which will be on show at The Brunswick on Saturday include:
Authentic storyboards from the Harry Potter 'Flight of the Phoenix' and Indiana Jones 'Raiders of the Lost Ark' films.
An original Willy Wonka chocolate bar from Tim Burton's remake of 'Charlie and the Chocolate Factory'.
A Gold Disc donated and signed by the British pop rock band Level 42.
Tickets for Saturday's event cost £8 and Sunday's event is £5 available from The Brunswick website. All proceeds go to Lynne's fund at the Yes to Life cancer charity and any money raised above Lynne's target will be used by the charity to help other cancer patients. As 25% of each donation goes to Gift Aid, over £1,000 has been raised for others so far. Anyone who can't get to the events can also help Lynne raise funds at anytime just by shopping online with their usual retailers, such as Amazon, Tesco and Dell via http://www.easyfundraising.org.uk/causes/lynnehazelden
For her own treatment, Lynne aged 52, has raised nearly £10,000 so far through her immense efforts and lots of kind help, donations and items for auction from many strangers as well as friends. The funds will be used for specialist treatment for Lynne in Israel where therapies for cancer are less aggressive than in the UK.
The former actress was initially treated on the NHS but due to a rare allergy which left her health seriously compromised some years before she was diagnosed with breast cancer, conventional treatment has proved too aggressive for her immune system to cope with.
Lynne developed a severe reaction to mercury and amalgam in the 1990's after a seemingly simple visit to the dentist for fillings. The allergy is so rare only 50 cases have been recorded and Lynne has been unable to live a normal life since.
Her battle with cancer began eighteen months ago and she has had two lumps removed on the NHS after a second tumour developed in her reconstructed breast. But while she knows it is a race against the clock to raise the rest of the funds she remains optimistic and very thankful.
"The oncologist at Guy's Hospital agrees that the chemotherapy and hormone treatment available in the UK were not an option for me," says Lynne. "He has referred me to another oncologist at Barts Hospital and the NHS are now looking at how they may be able to support me along with the treatment in Israel."
Donations can be made to Lynne's fund through http://www.justgiving.com/lynne-hazelden and friends and supporters who set up the Choose Life event think she definitely deserves the help as she has done so much to help others during her life.
"Lynne is an extraordinary woman who has made an enormous difference in the world." Say the group, "through her work at Landmark Education, in helping create a Family Division in the UK and Europe she has been responsible for the transformation of the lives of countless families across the continent. Even in the face of living with cancer Lynne has chosen not only to seek her own treatment but to campaign for better cancer treatment for all."
So, bring a light sabre along and enjoy a great time out with Darth and the gang this weekend.
Report sponsored by 2u.co.uk