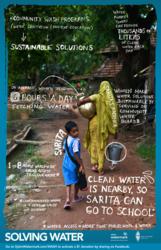 Denver, CO (PRWEB) March 21, 2012
To celebrate World Water Day 2012, Xylem Watermark will share a $1 donation between international nonprofit Water For People and nonprofit partner Mercy Corps for each infographic share via Facebook. On March 19 through March 30, those interested in sharing the "Solving Water" image can do so by visiting XylemWatermark.com/WASH.
"Water For People has a long-standing relationship with Xylem Watermark, and we are grateful to them for their commitment to raising funds for Water For People on this upcoming World Water Day," said Ned Breslin, CEO of Water For People. "This infographic will help spread the word about our commitment to reaching every family, school and clinic in the 30 districts we work in globally, with the focus on ensuring sustainable systems are in place so this access lasts forever, without increased water and sanitation aid. We believe Everyone Forever provides a practical and scalable model that can, eventually, fully eradicate water poverty in the countries where we work – which is our ultimate goal. We are thankful for Xylem's adamant support for our Everyone, Forever campaign."
Xylem Inc. has partnered with Water For People since 2008 as part of the company's corporate citizenship and social investment program, Xylem Watermark. Together, Xylem and Water For People have delivered sustainable water solutions, including water access and sanitation and hygiene education, to more than 350,000 people in India, Peru, Honduras and Guatemala.
The "Solving Water" infographic demonstrates the power of water, sanitation and hygiene to change lives because when clean water is nearby, children, especially girls, can go to school instead of fetching water. The photo was taken by a Xylem employee who traveled to India as part of World Water Corps, Water For People's international volunteer program, and spent two weeks monitoring water and sanitation access in rural areas.
ABOUT WATER FOR PEOPLE
Water For People is an innovative and impactful next-generation international nonprofit that believes investments made in water and sanitation services must lead to lasting and transformative change. The organization is dedicated to helping people in developing countries gain access to safe drinking water, improved sanitation, and hygiene education. Water For People's entrepreneurial approach establishes partnerships between government agencies, nongovernment organizations, and private enterprise to create self-managed water and sanitation services that reach everyone and also last forever. Learn more at http://www.waterforpeople.org or join the conversation on Facebook and Twitter.
ABOUT XYLEM WATERMARK
Xylem Watermark is Xylem Inc.'s corporate citizenship and social investment program, created to provide and protect safe water resources for communities in need. Through Watermark, Xylem works with leading international nonprofits, including Mercy Corps, Water For People and China Women's Development Foundation. Since its creation in 2008, Watermark has provided safe water and sanitation that has improved the lives of more than 500,000 people in 20 countries. For more information, please visit http://www.xylemwatermark.com.