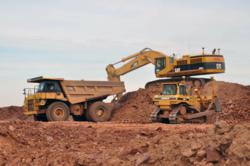 "We will enter the 2012 construction season with the largest backlog of publicly bid project work in many years." -John R. Kibblehouse, Jr., V.P of Business Development
Skippack, PA (PRWEB) March 22, 2012
After a recent meeting of The H&K Group's elite corporate leadership team, who gathered to receive the State of The Company, corporate outlook and strategic plan for the company's upcoming construction season, attendees left the 2012 Strategic Planning Summit with an air of confidence for a strong and optimistic construction season due in part, to a noteworthy backlog of public infrastructure work.
Speaking with conviction during the Outlook & Strategic Planning portion of the meeting, John R. Kibblehouse, Jr., V.P., Business Development for Haines & Kibblehouse, Inc. (H&K) and The H&K Group Family of Companies was quick to announce that, "We will enter the 2012 construction season with the largest backlog of publicly bid project work in many years. In particular, noteworthy awards over the past two weeks with the Pennsylvania Turnpike Commission (PTC) will greatly bolster our contracting work backlog this year." When speaking further about the significance of these projects, Mr. Kibblehouse indicated that, "Not only do these 'anchor-type' projects keep 'the big iron' (equipment) moving, but these large roadway projects are fed by significant quantities of aggregate and asphalt from our materials facilities. Getting our construction materials'on the street' in 2012 will in itself, be a tremendous boost for us. These major public infrastructure projects are a win-win for companies like ours." In closing, Mr. Kibblehouse was clear to state that, "These particular projects, when coupled with a respectable backlog of work on the private side, makes 2012 look, at this point, like one of the brighter construction seasons in the past three to four years for The H&K Group."
Mr. Kibblehouse's discussion was punctuated by significant PTC projects recently captured by two of the Group's contracting divisions, Reading Site Contractors(RSC) and Blooming Glen Contractors(BGC). The Group's RSC affiliate, based in Pottstown, PA was the low bidder on a Bituminous Resurfacing Project between mileposts 299.30 and 306.38 (the Morgantown and Downingtown Exits) in Berks-Chester Counties, PA. The project was team estimated by The H&K Group and will involve 267,000 square yards of milling and 69,000 tons of asphalt paving. The project also includes storm sewer installation and bridge rehabilitation. This particular project is slated to start in April 2012 and will be completed in November 2012.
The second piece of H&K's "PTC Trifecta" was recently secured by the company's BGC affiliate, based in Blooming Glen, PA. BGC was the low bidder on the PTC's Bituminous Overlay Resurfacing Project between mileposts 353.40 and 358.00 in Bucks County, PA. This project was also team estimated by The H&K Group's new team approach. The project will also include Sign Installation between mileposts 353.40 and 359.00. Impressive materials quantities on this BGC project will include over 141,000 square yards of asphalt milling, 13,300 tons of Superpave asphalt wearing course, and over 300 cubic yards of bituminous pavement patching within the project limits. This particular PTC project is slated to begin in April 2012 and will be completed by September 2012.
The third and final piece of "The "PTC Trifecta" as referenced, is The H&K Group's involvement as soul materials supplier to Walsh Construction (Walsh) on the I-476 corridor between the Lansdale and Mid-County interchanges. Most commuters traveling this busy corridor have likely recognized the "wave" of hunter green haul trucks delivering materials, distinctive Rahns Concrete(RAHNS) trucks or extremely active and visible Terra Structures drill rigs and equipment managing the difficult slopes of Walsh's widening efforts; each of these companies representing the proud moniker that is The H&K Group. Materials highlights for The H&K Group on the Walsh PTC alone include 73,000 tons of aggregate shipped to the project in 2011, coupled with over 200,000 tons of aggregate slated to be shipped to the project in 2012. Additionally, the Group's Materials Division is ramping up to supply 155,000 tons of asphalt materials to this project alone during the 2012 paving season. Rounding out the strong H&K Group materials presence on this project is RAHNS, who will exclusively and impressively supply over 71,000 cubic yards of concrete and 7,000 cubic yards of shotcrete to the project.
The remaining, and noteworthy piece of H&K's public bid 2012 war chest, also remains a carryover project from 2011. This particular job is known as Norfolk Southern's (NS) landmark Greencastle Intermodal facility, and is located in Franklin County, PA. In June 2011, another trusted affiliate within the Group's contracting divisions, Handwerk Site Contractors(HSC), was the successful bidder on the project that when completed will transform an open field along one of NS's mainline tracks into a yard that will ultimately handle building-sized cranes and forklifts, moving thousands of trailers to and from trucks and rail cars. At project completion, which is slated for the fall of 2012, HSC will have contributed 600,000 cubic yards of earthwork, 217,000 square yards of various concrete types, and several other undertakings including grubbing, demolition, borings, PennDOT roadways, bridges, box culverts, and thousands of feet of drainage pipe. Additionally, The H&K Group's Materials Division was instrumental in achieving a company first in securing the materials contract to supply rail ballast for the entire project. Given the company's unique capacity to produce the specified ballast for NS as well as deliver the materials by rail in company-owned cars, H&K will supply an impressive 47,000 tons of material to the project from H&K's Birdsboro Materials quarry facility in Berks County, PA.
As impressive as The H&K Group's backlog of public infrastructure work is, the company continues to report heavy bidding on private contract work as well. In fact, as the company rounded out formal discussions of overall company backlog at completion of the Group's 2012 Strategic Planning Summit on February 29, excitement and optimism continued as the company's Estimating Team announced recently signed contracts on several major projects within the Philadelphia Metropolitan area. This private work, when combined with the above backlog of public infrastructure work is rounding out what Regional Materials Sales Manager for The H&K Group, David Potter, indicated would be "One Wild Ride" for the company's Materials Division. Further, with both contracting and materials work continuing to expand for the company in the Marcellus Region, optimism certainly appears to have returned to the corporate leadership team at The H&K Group.
In wrapping up closing statements at the Group's planning summit, Scott B. Haines, President and CEO of the corporation was asked to provide final comment on rumors that were circulated late in 2011 concerning the financial well-being of H&K as related to marked changes in operating size and financial structure that occurred through much of last year. Mr. Haines was quick to comment that, "Although 2011 was a difficult year for the corporation, given the continued unforgiving economy and record-setting precipitation, H&K has continued to adapt, adjust and correct to meet the current trends and challenges of the Mid-Atlantic contracting, construction and construction materials market. It's no secret that H&K has had a difficult run in 2011. The continued challenges through last year caused us to financially restructure and significantly trim our workforce. Though extremely unfortunate, the size of our company needed to shrink to meet the down-trending economy and sluggish construction marketplace. The manner of these layoffs undoubtedly caused the swell in the local rumor mill and caused much of the media 'chat' about H&K. Rest assured, these changes were necessary and will ultimately lead to a better, leaner, stronger H&K." These comments from Mr. Haines, coupled with the impressive backlog of both public and private work that has been successfully banked by the company's materials sales and estimating teams provides significant assurance that The H&K Group is alive, well, productive and will clearly be a visible force along the impressive stretches of PA's scenic Turnpike in 2012.
The H&K Group and The H&K Group Family of Companies provide site contracting and construction services, construction materials including crushed stone, asphalt and ready-mix concrete, and associated architectural stone and manufactured hardscape and retaining wall products and services through 85 operations in four states including eastern PA, NJ, MD and DE. Further information on H&K, Inc. or The H&K Group Family of Companies may be found by pointing your browser to http://www.hkgroup.com or calling 610.584.8500.