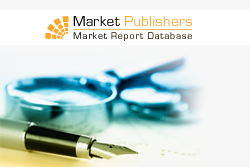 London, UK (PRWEB) March 21, 2012
Russia's need for added capacity is irrefutably growing, paving way for construction of new, high technology power generation plants. The investments are highly in need for the new projects. The country is poised to undergo a large-scale and most valuable renovation and expansion within the power construction industry.
New market report "Power Sector Construction in Russia 2012" elaborated by PMR has been recently published by Market Publishers Ltd.
Report Details:
Title: Power Sector Construction in Russia 2012
Published: February, 2012
Pages: 127
Price: US$ 2,800
http://marketpublishers.com/report/industry/construction/power_sector_construction_in_russia_2012.html
The report presents a detailed view of the overall energy market in Russia, including current generation capacities and investments in nuclear and conventional energy sources as well as in hydropower. Primarily it focuses on the future of power sector construction in Russia, including planned investments described in terms of size and value, estimated costs incurred by investors in specific projects.
Additionally, the report features profiles of the investors and contractors who will play an integral part in the transformation of the Russian energy market. It offers SWOT analysis, details on sources of financing and description of the obstacles to successful investment in the current market and moving forward. Vital market forecasts through 2014 are also covered within the report.
Report Contents:
I. METHODOLOGY
II. EXECUTIVE SUMMARY
III. POWER SECTOR OVERVIEW
IV. CONVENTIONAL POWER PROJECTS
V. NUCLEAR POWER PROJECTS
VI. HYDROPOWER PROJECTS
VII. RENEWABLE POWER PROJECTS
VIII. PROFILES OF THE MAJOR INVESTORS ON THE POWER MARKET
IX. PROFILES OF THE MAJOR CONTRACTORS ON THE POWER MARKET
X. LIST OF GRAPHS
XI. LIST OF TABLES
XII. ABOUT PMR
XIII. CONTACT PMR
More new market research reports by the publisher can be found at PMR page.