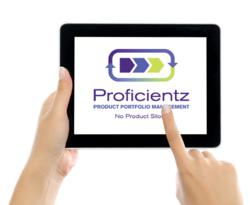 Atlanta, GA (PRWEB) March 22, 2012
Proficientz, Inc., a product portfolio management training and consulting firm for B2B organizations, announced today a strategy for extending its best practices to mobile applications. Proficientz mobile applications will enhance an organization's ability to uncover bigger business problems and deliver higher value solutions by enabling all disciplines to capture, share and socialize high-value market needs with no additional effort.
Extending product management business practices via mobile apps addresses one of the toughest challenges confronting all B2B product and service organizations – a systematic way to capture, share and socialize everyday conversations with customers, buyers and partners that contain valuable information relating to market trends, business strategies, operational needs, spending priorities and other information critical for market alignment.
Product management teams may be the biggest beneficiaries because the plethora of needs and requests coming from every direction lack the consistency and context required to confidently determine R&D investment priorities. Mobile apps will allow those needs and requests to be captured systematically, giving product teams a more accurate and holistic view of the market to support investment decisions.
Proficientz best-practice templates have been available online in document form since 2010 via Product Management Interactive subscription. Mobile apps make it easier to extend those best practices beyond product teams to strengthen an organization's market focus across all disciplines.
According to John Mansour, Managing Partner at Proficientz, "Mobile apps are a logical evolution for product management because they make it easier to employ best practices across all disciplines without requiring any changes to their normal routines. The end game with product portfolio management is to uncover and solve bigger problems at a level that transcends individual products, and mobile apps allow organizations a simple and consistent means for employing product management best practices across the organization to achieve that goal."
Proficientz mobile apps will be built initially for the iPad and begin rolling out in the second half of 2012 via the Apple App Store. Pricing will start at 99₵ each.
If product management best practices aren't confined to product teams and individual products, organizations can accelerate growth and improve their market value by taking a more holistic approach to uncovering and solving higher value market needs. Mobile apps make it simple to extend those best practices to other disciplines without the burden of implementing additional processes or learning new skills.
If you want to learn more about how product portfolio management practices can improve your market value, attend a Proficientz Executive Briefing in one of 13 cities.
About Proficientz
Proficientz was founded on a single principle – it's more important for product teams to possess skills that create market value for their organization than it is for individuals to create better products. Business practices that focus on improving product performance don't accomplish that goal because they create silos and force product teams to compete in the interest of product goals that eventually work against the organization's goals.
The Proficientz model for Product Portfolio Management raises the skills of your product teams to a level where they're consistently creating greater market value for your organization by collaborating to uncover and solve bigger problems at a level that transcends products. Product execution is still product specific but done with greater strategic purpose. Proficientz specializes in B2B product portfolio management. We create world-class product teams that are more valuable to their organizations than a group of individuals striving to create better products.
Join our mailing list to receive valuable Tips for Managing Your Product Portfolio.
Join our LinkedIn Group to stay current on the latest portfolio management trends and discussions.