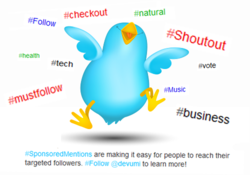 The most effective forms of Twitter Marketing for the price.
West Palm Beach, FL (PRWEB) March 23, 2012
Devumi, a leading Social Media Marketing service provider, silently introduced a new and highly effective form of Twitter Marketing in February of 2012. The company has been known for its Buy Twitter Followers Service for some time, a service which provides guaranteed Twitter Followers to strengthen credibility and influence among peers, customers and potential followers.
Devumi's new Sponsored Mentions service gives their clients an interactive and effective means of connecting with their target followers like never before. The service, which is currently an optional add-on to any of their existing Twitter Packages, gives clients an opportunity to put their strengthened social credibility to the test by letting reputable Twitter users recommend following their account. The combination of their two Twitter Services work flawlessly to give clients a competitive edge and help them reach and attain real, loyal Twitter Followers. First their Buy Twitter Followers service strengthens the social credibility of clients by adding guaranteed Twitter Followers to their accounts. Afterwards, using the strengthen social credibility to their advantage, Devumi's Twitter Marketing Team carefully constructs unique tweets using @mentions and provides these to some of their Twitter Partners (reputable Twitter users with a large, loyal following) to tweet and recommend the Twitter account to their targeted followers. This combination of Twitter Marketing has shown unparalleled results and has gain the company a high client retention rate.
"Our Sponsored Mentions Service has been shown to be a highly effective method of gaining exposure and attracting real, loyal Twitter Followers to follow the accounts of our clients. Unlike other services which promise to get real Twitter Followers by massively following others first - a dangerous and unprofessional approach; none of our Twitter services require following or account access, and are done exclusively through external marketing methods," said German Calas, the Chief Executive of Devumi. "This insures high quality, professional and safe results, which thousands of our clients have already experienced and benefited from."
Everyone from Small Businesses and Organizations, to Artists and Musicians, and even actors and comedians have used these services with outstanding results, 100% confidentiality and complete satisfaction. Devumi has helped thousands of people increase their social credibility and reach their target audience on Twitter, quickly and effectively.
Devumi is currently offering their Twitter Service for as low as $17 for a limited time, giving anyone the opportunity to improve and strengthen their Social Media Marketing quickly and effectively.