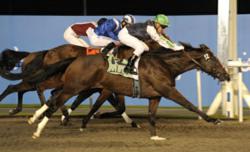 We are barely able to keep with demand for flights to Dubai and have had to draft in additional crew and planes
London, UK (PRWEB) March 23, 2012
Customers of Private Jet Central are flying in record numbers to the Dubai for the Dubai World Cup. Billed as "The world's richest day in racing" it is attracting record numbers of visitors from the UK and Europe. Part of the Dubai World Cup Carnival the Dubai World Cup is the last day of racing of more than 5 months of events and is set to be something special this year.
For the first time there will there will be 9 races on the final day of March 31st with the finest horses, jockeys and trainers from around the world participating. With prize money for the centrepiece race of the event set to top $10 million for the first time interest is bound to be high.
The MD of PJC has said "It looks like this will be the busiest few days of the year so far". He went on to say "We are barely able to keep with demand for flights to Dubai and have had to draft in additional crew and planes".
Dubai is becoming an increasing popular destination for Private Jet Central customers. Closer business ties between the UK and the UAE has led to an increase in the number of business travellers. While the number of world class sporting, cultural, shopping and arts events in the region has seen a significant rise in the number of pleasure users. Events such as the Dubai Duty Free World Cup, Dubai International Dance Festival and the 5th Gulf Film Festival attract thousands of visitors from the UK each year.
Pleasure and business users who wish to fly private jet from London to Dubai can visit the Private Jet Central website. Offering jets of various sizes and specifications PJC offer a personalised and expert service to customers wishing to fly to Dubai. With the addition of round the clock access to dedicated flight consultants and an improved streamlined booking service Private Jet Central offer a genuinely first class service.
About Private Jet Central
Private Jet Central is a global jet charter company with offices in the United Kingdom, United States and the Middle East. Founded in 2001 they offer a range of jet charter services to business and pleasure users in the UK and Europe. With over 10 years' experience in the jet charter industry they are ideally placed to meet their client's requirements. More information on the full range of services offered by Private Jet Central is available from their website at http://www.privatejetcentral.com/ and also by contacting any of their offices by phone or via e-mail.