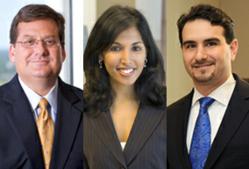 It is a great honor to be recognized by the WTR 1000 again this year, and we are especially excited about our national ranking
Dallas, TX (PRWEB) March 21, 2012
The Haynes and Boone, LLP Trademark Practice Group has again been ranked as the top full-service firm trademark practice in Texas, and now as one of the leading groups of trademark lawyers in the nation, in the second edition of the World Trademark Review (WTR) 1000 – The World's Leading Trademark Professionals.
WTR, guide of the world's leading trademark legal services providers, attributes the rankings to the group's "excellent and highly resourced team." Haynes and Boone's trademark practice has grown steadily to more than 20 lawyers in its Texas and California offices.
In addition to the firm's national and state rankings, several of its trademark partners were identified as deserving of individual rankings. "Seasoned practitioner" Jeff Becker ranked nationally in both the enforcement/litigation and prosecution/strategy categories, as well as in the Texas rankings, and is described by clients as "dedicated and tireless." Purvi Patel, chair of the firm's Trademark Practice, is ranked among the top trademark lawyers in Texas and is noted as "a responsive, conscientious and client-focused service provider."
David Bell, chair of the firm's Social Media Practice, also individually ranked among the top trademark lawyers in Texas and is touted by clients as someone who "always exceeds our expectations in terms of results, while remaining mindful of our needs for cost control."
"It is a great honor to be recognized by the WTR 1000 again this year, and we are especially excited about our national ranking," said Patel. "The confidence our clients continue to place in our service has enabled us to grow our team into one of the most advanced, experienced and efficient trademark practices available."
Alastair Mitchell, head of research on the WTR 1000, explains: "In today's global market, and in the context of increasingly complex issues facing brand owners, expert counsel is crucial. Yet it can be challenging to find the right partner. To meet this need, the WTR 1000 has delivered its most in-depth analysis yet. Based on the very latest market intelligence, the rankings and editorial provide readers with a truly comprehensive overview of trademark services around the world."
The extensive research process was conducted over several months by a team of full-time analysts and involved more than 1,000 interviews with trademark specialists across the globe. Law firms and individual practitioners quality for inclusion in the WTR 1000 upon receiving sufficient positive feedback from market sources.
About Haynes and Boone
Haynes and Boone, LLP is an international corporate law firm with offices in Texas, New York, California, Washington, D.C., Mexico City and Moscow, providing a full spectrum of legal services. With more than 525 attorneys, Haynes and Boone is ranked among the largest law firms in the nation by The National Law Journal. The firm has been named one of the "Best Corporate Law Firms in America" (Corporate Board Member Magazine, 2001-2011) and recognized as a "Top 20 Law Firm" for culture and for diversity with respect to both women and minorities (Vault, 2012). For more information, visit http://www.haynesboone.com.
About the WTR 1000
The WTR 1000 is the only guide exclusively dedicated to identifying the world's leading trademark legal services providers. Through an extensive research process conducted by a team of highly qualified, full-time analysts, the publication identifies the leading trademark law firms and individuals in over 50 global jurisdictions.
About World Trademark Review
World Trademark Review (WTR) is the world's only independent multimedia publication dedicated to reporting on trademark issues for trademark lawyers internationally. The WTR platform includes a subscription magazine, regular outbound supplements and the unique WTR Daily email newsletter, which includes a free and often controversial trademark news blog and legal updates written by a panel of experts in key jurisdictions. More information can be found at http://www.worldtrademarkreview.com. WTR is part of The IP Media Group (http://www.theipmediagroup.com).