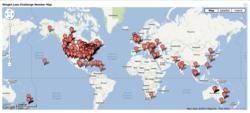 "Because of this website I am well on my way to a healthier life, a new me, a whole new start on life!" - Tasha, Diet.com Weight Loss Challenge Grand Prize Winner
Brookline, MA (PRWEB) March 22, 2012
Diet.com, one of the web's leading resources for diet, fitness and nutrition content and tools, has announced the winners of the site's annual New Year's Weight Loss Challenge. Winners of the Weight Loss Challenge, which began in early January and ran for 6 weeks, will take home a combined total of over $1,000 in valued prizes.
The Grand Prize winner, a Diet.com member named Tasha, lost 17 lbs during the 6-week Challenge. The 24-year-old mother of three, who goes by the username Tasha23 on the site, tells Diet.com that she started off 2012 with a new resolution - to focus on getting healthy, not getting "skinny."
"This year, my New Year's resolution wasn't to get skinny - it was to be healthy, stop drinking pop, exercise," Tasha tells Diet.com. "Not just set an image goal for myself, but set a life-changing goal... I want to be the same girl on the outside as I am on the inside."
Tasha wrote a blog about her Challenge experience that can be read here.
"Our Challengers are people from all over the world who want to lose weight, become healthier and reach goals," says Bailey Apple, Diet.com's Marketing Manager, who oversees the operations of each of the site's Weight Loss Challenges. "Our Weight Loss Challenges give participants a boost of motivation to help them do so."
Tasha agrees, attributing her weight loss success to the Challenge and Diet.com:
"Because of this website I am well on my way to a healthier life, a new me, a whole new start on life!"
For being named the Grand Prize winner of the Weight Loss Challenge, Tasha has been awarded a prize package to help her continue on her journey towards healthy living: a $250 Visa Gift Card, 3 cases of Vita Coco all-natural coconut water, a 12-pack variety case from Colby's Kettle Corn and a variety of diet and fitness books.
Three runners up were also named in the Challenge, each of whom were awarded a Visa Gift Card, case of Vita Coco, a variety case of Colby's Kettle corn and a variety of diet and fitness books. These runners up lost a combined total of 28 lbs during the 6-week Challenge.
Diet.com's Weight Loss Challenges run 3-4 times throughout the year and offer participants a forum to increase motivation for weight loss through friendly competition among site members. Challengers use goal-setting tools, community support and prizes to encourage and maximize weight loss during each Challenge. The New Year's Challenge is Diet.com's most popular and anticipated Challenge of each year, this year drawing over 500 participants from all over the globe. This year's participants lost a combined total of over 1,400 lbs.
Diet.com's Weight Loss Challenges are open to all Diet.com members. Those interested can create a free account by heading to Diet.com today.
About Diet.com:
Diet.com is a multifaceted health and wellness organization that provides quality information and cutting edge tools and services to consumers and businesses alike. Since its founding, Diet.com has been a valuable online resource for dieters and those seeking information on living a healthy lifestyle. As one of the web's leading resources for diet, nutrition, and fitness content and tools, Diet.com has created a platform where consumers are able to set and track diet and fitness goals, browse over 1,000 healthy recipes, learn new exercises, and interact with others in the thriving Diet.com online community. The diethealth YouTube channel (http://www.youtube.com/diethealth) has a library of over 500 videos, over 116,000 subscribers, and has received upwards of 94 million views. For any inquiries, please contact Lauren Alford, Director of Business Development, at LaurenA@diet.com or 919-616-7532.